Brined and Grilled Pork Chops
Everybody has heard about brined Turkey's for Thanksgiving. Seriously if you have ever watched Alton Brown you know what I am talking about. You probably have even tried a brined Turkey. They are worth the effort. Like turkey, pork chops are lean and a brine helps make them moist, juicy, full of flavor and most of all not at all tough like your Mom used to make them.
Cut is important. I like a nice thick cut chop with bone in. Bone = flavor. Bonus if if there is some fat around the sides of your chop. So I brine my chops the day before and sometimes as much as 3 days ahead. It is a simple thing to do, and it yields a delicious, moist, succulent chop that is soft and delicious. Then I cook them on the grill to maximize the flavor potential. Man + fire + food = yum!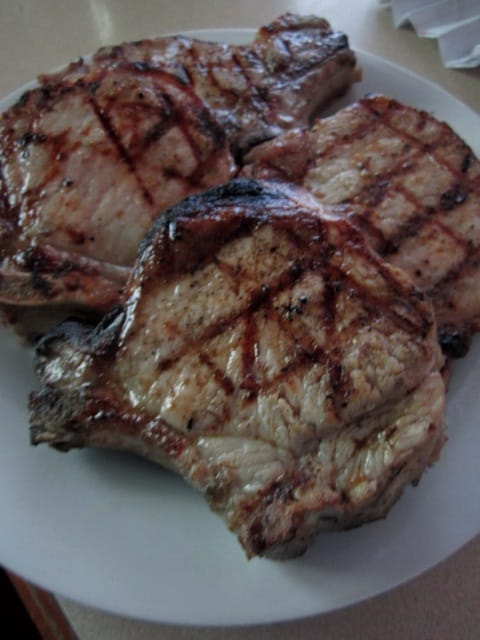 Ingredients
4 thick cut bone in Pork Chops
1/2 cup of course salt
1/3 cup raw local honey
2 bay leaves (fresh or dried but I prefer fresh)
1 TBS crushed black peppercorns
3 cloves of garlic smashed – 4 if your cloves are small
1 medium sweet onion chopped
1 carrot peeled and chopped
1/2 tsp Crushed Red Pepper Flake (optional but trust me worth doing if you can)
1 to 1.5 quarts of filtered cold water (not tap water if yours is chlorinated to death like mine)
Directions
In a large pot, mix all your ingredients together so that salt and honey dissolve in the water. Add your pork chops, cover and refrigerate for at least 24 hours but up to 3 days.
Cooking your Chops When you are ready to make your pork chop dinner. Take your pork chops out of the fridge at least an hour before you plan to grill. Take them out of the brine, give them a quick rinse and then put them in a towel (cloth or paper your choice) and pat dry. Leave them covered on a plate unrefrigerated so they are not cold hitting your grill. You want them to be room temp before grilling.
Make sure your grill is nice and hot. You do not need to season your chops before grilling as the brine provides all the flavor and seasoning you need. On a hot grill, lay your chops down for about 3 to 5 minutes. Then rotate them 90 degrees and leave them for another 3 to 5 minutes. Then flip and repeat. Once cooked on both sides, sit them on their fat edge to make sure your fat is good and crispy. Remove from grill, cover them with foil and let them rest for a good 10 minutes before serving. They should be medium to medium well with this method. Cook a little longer if you like your pork more well done. It won't get tough because of your brine!
I like to serve mine over a butternut squash puree with a drizzle of almond oil and my Best Brussels Sprouts Ever. Also lovely over a cauliflower puree or sweet potato puree or even a chunky apple sauce or stewed apples. Throw some toasted pumpkin seeds on top and you will look like an Iron Chef!