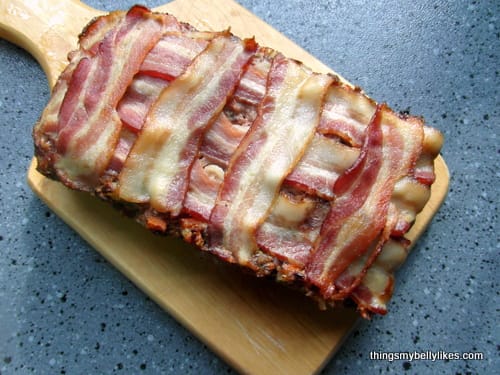 Ingredients
1 lb ground buffalo
5 slices bacon
2 carrots, peeled and finely chopped
2 stalks celery, finely chopped
1/2 large, white onion, finely chopped
2 cloves garlic, minced
1 tbsp butter (or coconut oil)
1 tbsp parsley
1 large egg
3 mushrooms, finely chopped
1/3 cup flax seeds, ground
sea salt and black pepper
Directions
Melt a tbsp of butter in a frying pan over a medium heat. Add the carrot, onion, garlic, mushrooms and celery. Fry for 3 minutes until soft. Set aside to cool.
Put everything except the bacon into a large mixing bowl and season well with salt and pepper. Stir together until it comes together as a 'dough'.
Press into a greased or lined loaf tin. Line the bacon slices along the top in a lattice shape (I put three lengthways then cut the remaining two in half and placed them vertically across the top).
Chill in the fridge for at least 30 minutes.
Bake at 400 for 45 minutes. Let cool slightly before cutting and serving.