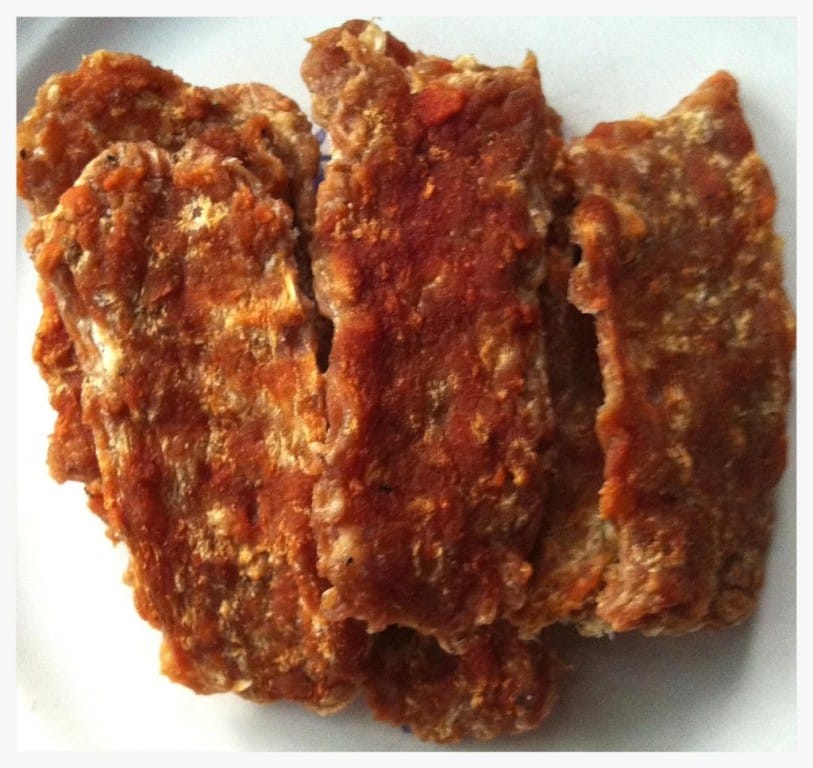 Ingredients
1 lb ground chicken
1/4 cup plus 2 Tbsp hot sauce (such as Frank's original, not buffalo wing sauce)
1/2 tsp salt
1/2 tsp black pepper
1/2 tsp garlic powder
1/2 tsp onion powder
1/4 tsp celery seed (optional)
Directions
Gently mix all ingredients except 2 Tbsp hot sauce in a large mixing bowl and let sit in fridge overnight or for at least one hour.
If you have a jerky gun, follow manufacturer's instructions and skip to step 5. Otherwise, place meat mixture between two pieces of wax or parchment paper, and using a rolling pin, baking sheet, or your hands, flatten into a rectangle/square slab 1/8″ to 1/4″ thick.
Place slab on a baking sheet and place in freezer for 15-20 minutes, until just barely hardened. This step is optional, but I find it extremely helpful in cutting the ground chicken, as the variety I buy is much wetter and harder to work with than ground beef.
Cut slab into strips of desired width and length and place on dehydrator tray.
Brush generously with remaining hot sauce.
Follow your dehydrator's instructions, or turn dehydrator to 145 degrees F and dry jerky for 5-8 hours, until the inside is no longer pink and jerky is still pliable. You don't want to dry them out too much, as they will continue to harden after being taken out of the dehydrator.
Store in fridge or freeze for longer storage.