Combine the ingredients for the brine and pour over the pig tails. Allow to sit for 24 hours. This is an essential step to ensure the meat is tender.
Whisk together the buffalo sauce. Drain the pig tails and marinate in 3/4 of the sauce for at lease one hour.
Preheat the oven to 400 degrees. Arrange pig tails on a greased baking sheet and brush with additional sauce. Bake for 30 minutes. With tongs, flip each pig tail and brush with more sauce. Bake an additional 15-20 minutes.
Serve with buffalo sauce for dipping.
Enjoy!
[ingredients]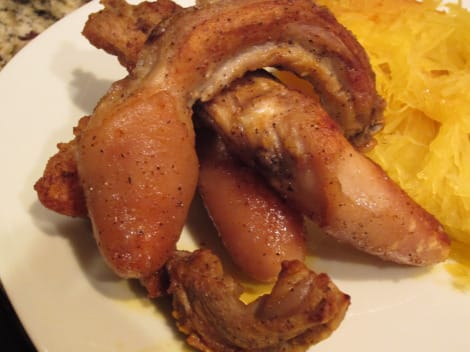 Ingredients
1 lb Pig Tails, cut into 2-inch chunks
6 c Water
3 T Salt
3 T Coconut Aminos
1 T Olive Oil
1 T Apple Cider Vinegar
1 c Ghee, melted
1 c Hot Sauce
1 t Coconut Aminos
1 t Salt