This weekend, I was inspired to put my own spin on a recipe from the Paleo Kitchen by PaleOMG's Juli Bauer and Civilized Caveman's George Bryant. Using a bag of onions instead of crying over cutting them? Genius. There were a few ingredients and quantities of theirs that I didn't agree with, so I took them out and made some changes. There were a few ingredients I like that they didn't use, so I stuck them in.
Any other time I've made a full 6-quart crock pot full of food for one person, I've frozen a bunch of leftovers. This time, there were no leftovers.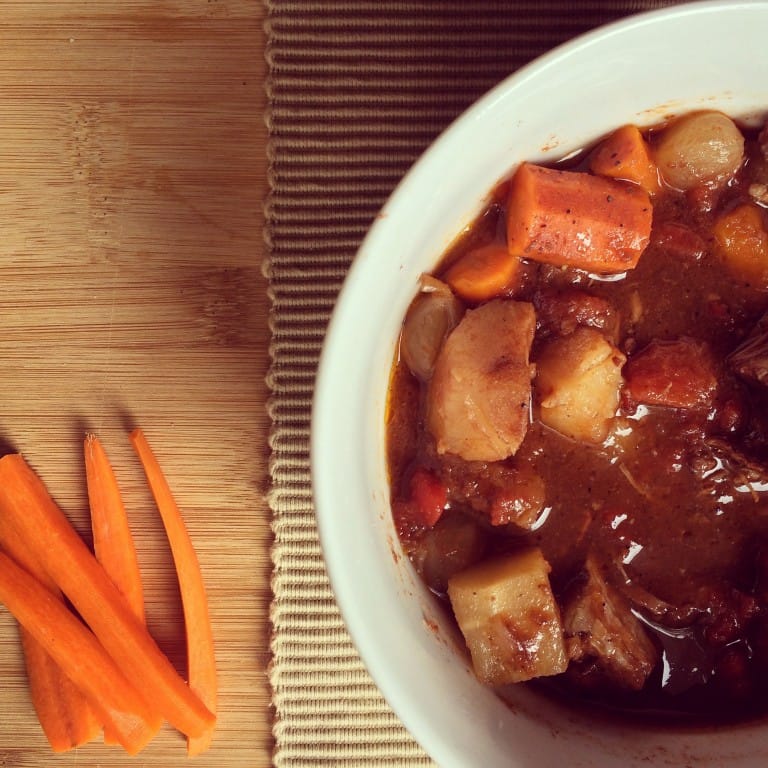 Ingredients
1.5lbs Stew Beef
6 Slices Uncured Nitrate-Free Bacon
1 bag frozen Pearl Onions
4 Carrots, peeled & cut into chunks
3 Parsnips, peeled & cut into chunks
2 tsp Minced Garlic
8 oz Red Wine
1 Can (14oz) Plain Diced Tomatoes
1 Small can (8oz) Plain Tomato Sauce
1 tsp Salt
1 tsp Pepper
1 tsp Flavor God Garlic Lovers Seasoning
Directions
In a skillet, cook the bacon ahead of time.
Now, here's the part of the recipe that's so easy you'll fall out of your chair. Put ALL THE THINGS into the crock pot. Crumble the bacon up or leave it whole, however as you see fit. Stir it all up. It will look weird…
Set it and forget it! Cook in the crock pot for 8 hours on LOW.