If you are not familiar with a California burrito, it is a normal burrito that contains french-fries rather than rice. This over-the-top dish is deliciously sinful. By ditching the flour tortilla, you'll be able to Paleo-fy the burrito into a healthy meal.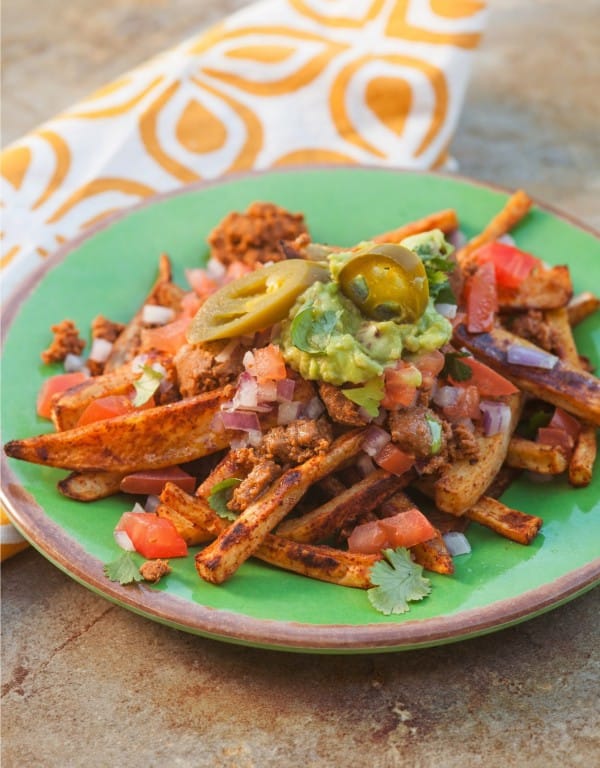 Ingredients
2 medium sweet potatoes
1 tablespoons olive oil
1 tablespoon chili powder
½ tablespoon cumin
1/4 teaspoon red pepper
1/4 teaspoon arrowroot powder
1/4 teaspoon turmeric
Coconut oil cooking spray or FOC in oil mister
1 pound chorizo turkey sausage
1 avocado, mashed
¼ teaspoon lime juice
½ white onion, diced
3 tomatoes, diced
2 tablespoons cilantro, chopped
¼ cup pickled jalapenos
½ cup red taco sauce (optional)
Directions
Preheat the oven to 450 degrees. Peel the sweet potatoes. Cut them into ¼-inch fries. Soak the fries in a large bowl of water for 1 hour. This will remove some of the starch. Drain them and pat dry with a paper towel. In a large bowl, toss the fries with the olive oil, chili powder, cumin, red pepper, arrowroot powder and turmeric. Line two baking sheets with foil and spray with non-stick cooking spray. Spread the fries out in a single layer making sure not to overcrowd them. Bake for 20 minutes, flip and cook an additional 10 minutes.
While the fries bake, cook the turkey chorizo in a large frying pan over medium high heat for 7-10 minutes. Crumble the chorizo with a spatula as it cooks. Mash up the avocado and mix in the lime juice.
When the fries come out of the oven, transfer them to a plate. Top them with the chorizo, onion, tomato, cilantro, avocado and jalapenos. If desired, drizzle red taco sauce on top.