Carrot Cake with Maple-Orange Frosting (Grain-Free)
A delicious grain-free cake, full of carrots, coconut and walnuts, topped with a maple-orange cream cheese frosting…a perfect dessert for Easter or any springtime celebration!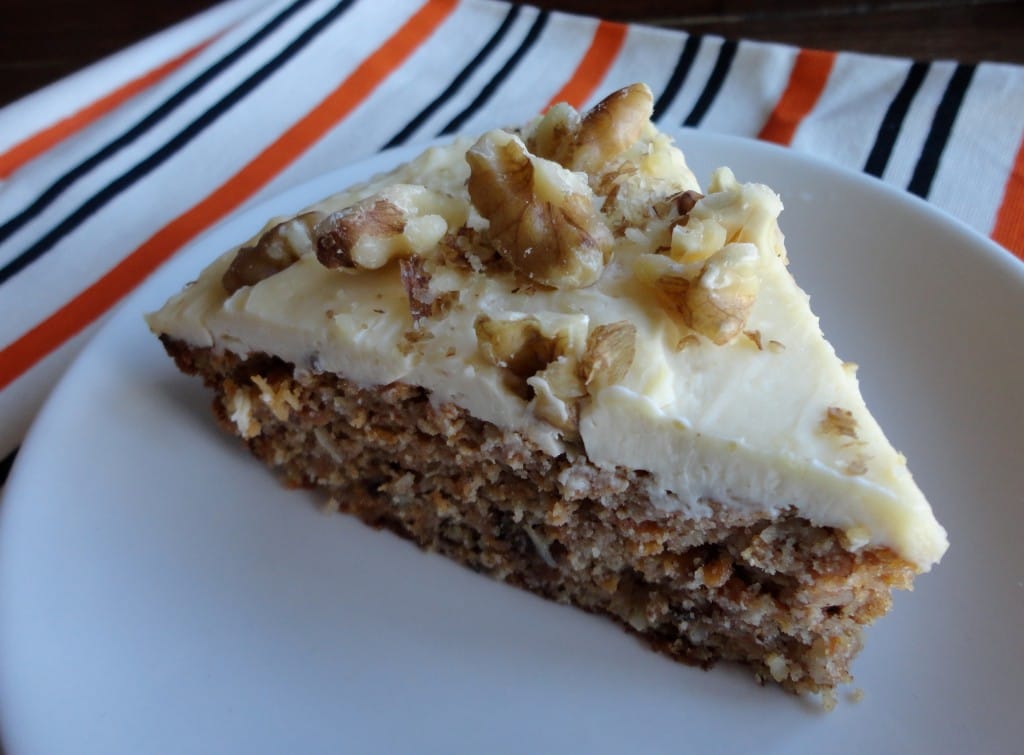 Ingredients
1 1/2 cups almond flour
3 Tbs coconut flour
1 tsp cinnamon
1 tsp dried powdered ginger
1/4 tsp nutmeg
1/4 tsp sea salt
3/4 tsp baking soda
3 eggs
3 Tbs coconut oil, melted
1 tsp vanilla extract
1/2 cup maple syrup--substitute honey for GAPS-friendly
Zest and juice of 1 orange
2 cups grated carrots, packed
1/3 cup each: raisins, shredded coconut, chopped walnuts
2 Tbs maple syrup
1/4 tsp vanilla
1 8oz. block full fat cream cheese
1/4 cup butter, softened to room temp
Directions
Preheat oven to 350 F. Lightly grease a 9" round cake pan or line a cupcake pan with liners.
In a large bowl, combine the almond and coconut flours, salt, spices and baking soda. Stir to combine.
Create a well in the center of the dry ingredients. Add the eggs, vanilla, 1/2 of the orange zest and juice and maple syrup into the center and mix together. Stir to incorporate the wet and dry ingredients together until just mixed.
Add in the carrots, raisins, coconut and walnuts. Stir well to evenly distribute throughout the batter. Pour cake batter into the prepared pan and spread to create an even surface.
Bake for 40-45 minutes, rotating the pan halfway through cooking. When cake is done, it should be lightly browned on top and a toothpick inserted should come out mostly clean. Be careful to not overcook the cake, or it will become dry. Let the cake cool completely before frosting.
For the frosting: Cream together the butter and cream cheese until fluffy and smooth.
Add in the 1/4 tsp vanilla, 2 Tbs maple syrup and the remaining orange zest and juice. Stir well--I like using a strong fork--until all the ingredients are well combined and the frosting is creamy.
Spread evenly on top of cooled cake. Garnish with extra chopped walnuts and serve.
**The cake itself is dairy-free, but you could make the frosting without dairy by substituting 1 1/4 cups organic palm shortening (non-hydrogenated, I like Spectrum brand) at room temperature for the butter and cream cheese, and add 2 tsp lemon juice to the recipe for a little tangy flavor. Taste and see if it needs a little extra maple syrup to adjust to your taste/sweet preference.