Cashew Cream "Cheesecake"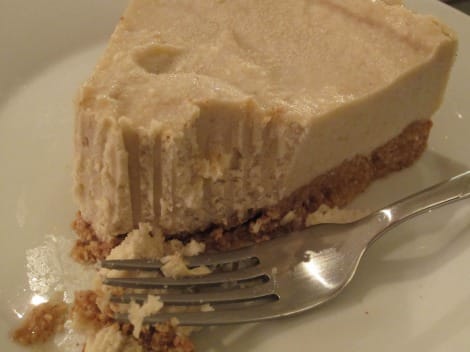 Ingredients
1 c Raw Almond Butter, 1 c Unsweetened Coconut
2/3 c Raw Pecans, 1 T Maple Syrup, 1/4 t Salt
3 c Raw Cashews, soaked and drained
1 c Coconut Oil, softened
1 c Maple Syrup
Juice of 1 Lemon
1/4 c Full Fat Coconut Milk
2 t Vanilla
Directions
To soak your cashews, put the raw nuts in a bowl and cover with cold water and a pinch of salt. Then place the bowl in the refrigerator and allow to soak for 4-6 hours. Don't soak for more than 24 hours or they will become bitter.
Generously grease a springform pan with coconut oil and place in the freezer.
To make the crust, combine almond butter, coconut, pecans, coconut butter, salt, and syrup in a food processor. Pulse at first to combine everything, then run the processor until you have a sticky but smooth-looking mass. Scoop it out and press into the bottom of your springform pan and place back in the freezer.
For the filling, drain the cashews but don't let them get too dry. Place the cashews in the food processor and pulse until they are a fine consistency. Add the coconut oil, syrup, lemon juice, coconut milk, and vanilla. Run the food processor for 3-5 minutes until you have a very smooth, creamy mixture. Pour the filling over the crust (the crust doesn't have to be completely frozen at this point). Place the cheesecake back in the freezer for at least 3 hours, until firm.