One of my good friends spent some time living in Spain. He is always talking about the different foods that he loved and Paella is one of his favorites. So I decided to try out a new recipe using cauliflower rice and it turned out fantastic. The only thing I will do different next time is add in some saffron threads (I didn\'t have any on hand at home). I think that would even make the taste more Spanish.
Place a little olive oil in the bottom of a soup pot. Add in the onion and garlic and saute on med-high heat for about 5 minutes. Add in the diced tomatoes and stir. Add in your spices and chicken broth and let cook on medium heat for about 5 minutes.
Then add your shrimp, sausage, chicken and cook another 5 minutes. While this is cooking, make your cauliflower rice (I just throw big chunks in my blender) and microwave your frozen peas for about 4 minutes with a tad bit of water.
Add in your roasted red peppers, cauliflower rice and peas and cook for another 10 minutes or so. There will be a little more liquid than regular paella because the cauliflower doesn\'t soak it up like regular rice. But I think it still turned out fantastic.
[ingredients]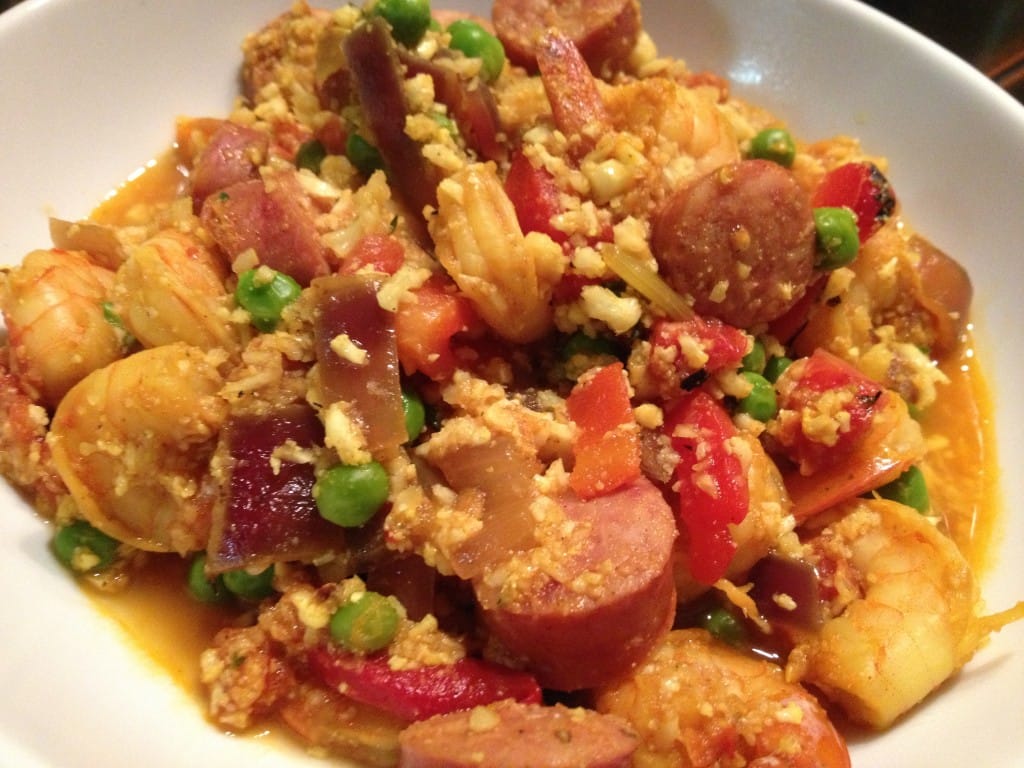 Ingredients
1 frozen package of cooked shrimp
1/2 package of frozen peas
3/4 cup of roasted red peppers (from a jar is what I used)
1 head of cauliflower
1/4 cup chicken broth & dash of olive oil
paprika, turmeric, sea salt, red pepper flakes
3 large sausage links precooked (you can use whatever you like)
1 red onion & 5 cloves of garlic, diced
2 large chicken breasts, grilled and cut into chunks
1 can of diced tomatoes