1. In a large skillet, cook your chicken over medium heat until cooked through. Remove from the skillet, shred into bite size pieces, and set aside. Leave the drippings in the pan.
2. While the chicken is cooking, rice the cauliflower in a blender, food processor, or with a grater. Put in a medium sized saucepan with 1 cup chicken stock and cook on medium heat until tender, about 20 minutes.
3. In the skillet with the chicken drippings add the arrowroot powder and almond flour and remaining chicken stock, whisking constantly until it becomes very thick. Then add 1/3 of the canned coconut milk and continue whisking.
4. Add in the salt, pepper, sage and thyme and stir until well combined. Slowly cintinue adding the coconut milk until you have used it all. Let simmer for 5 minutes. If the sauce is too thin, add 1/2 teaspoon arrowroot power. If it is too thick add 1/4 cup chicken stock.
5. Add the shredded chicken to the gravy, mix thoroughly, and let simmer for 10 minutes.
6. Serve with a scoop of cauliflower rice on top.
[ingredients]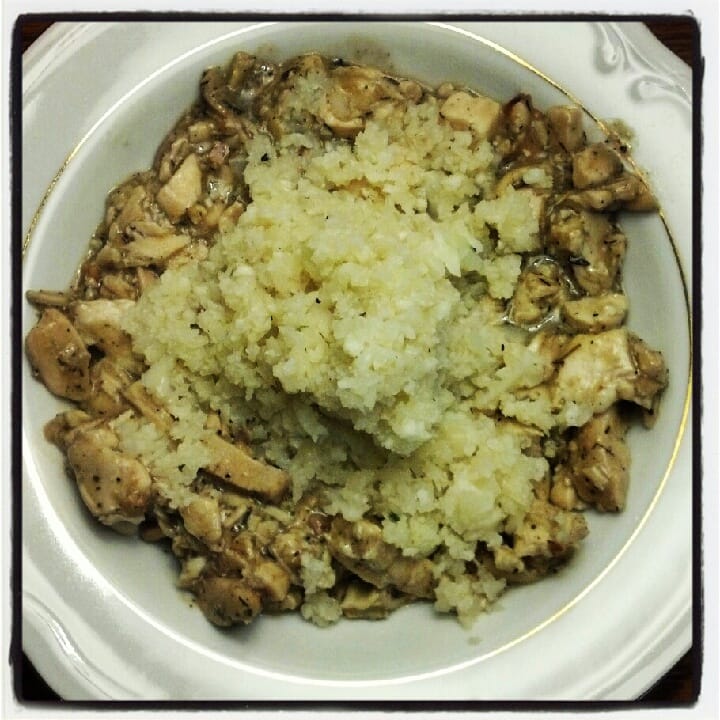 Ingredients
1 lb chicken
1 large head cauliflower
1.5 cups chicken stock, divided
2 Tbsp arrowroot powder
1 Tbsp almond flour
1 tsp ground black pepper
1 tsp salt
2 tsp dried sage
1 tsp thyme
1 can coconut light coconut milk