Chicken Bacon Ranch Frittata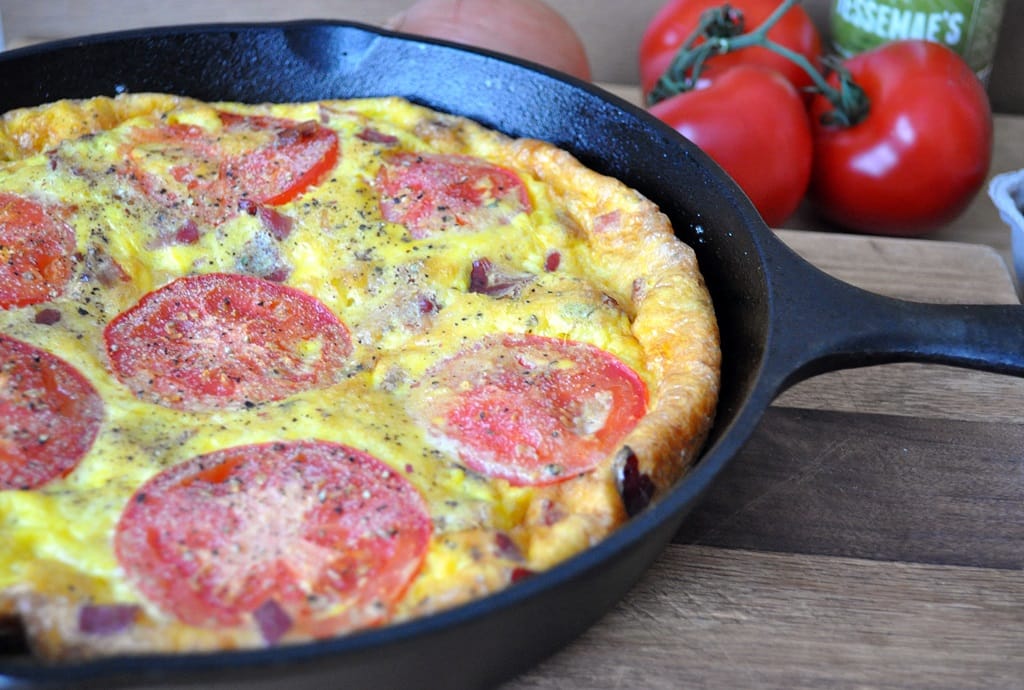 Ingredients
1 small Onion, chopped
1 Chicken breast, cooked and cubed or shredded
6-8 slices Bacon, cooked and chopped
8 large Eggs
1/4 c full-fat Coconut milk
1 tbsp Coconut oil
2 tbsp Tessemae's Zesty Ranch OR 2 tbsp Coconut oil plus 1/2 tsp Garlic, minced and 1/2 scallion, minced and a small squeeze of lemon juice
1 medium Tomato, thinly sliced
1/4 tsp Garlic powder
1/2 tsp Sea salt
freshly cracked Pepper to taste
Directions
1. Preheat oven to 400 degrees
2. In a 10 inch nonstick or cast iron skillet, heat coconut oil over medium heat until shimmering
Add onion and saute until translucent, about 3-4 minutes
While onions cook, whisk eggs, coconut milk, and salt and pepper in a medium bowl
Add chicken and some or all the bacon (can save some for the top) to the skillet
Pour the ranch over the top, stir to combine
Spread the mixture evenly across the skillet and pour the eggs over the top
Place tomato slices evenly over the top Sprinkle on the garlic powder and more chopped bacon if you desire
Let cook for 3-4 minutes or until the edges are starting to set up and pull away from the edge of the skillet
Transfer to oven and bake for 10-12 minutes, check doneness with a butter knife, if you make a cut and see runny eggs bake for another couple minutes
Let cool 5 minutes and use a knife to release the edges, slide onto serving plate and slice into 6 portions
-Keeps well in the fridge for 3-4 days and reheats nicely -Enjoy!