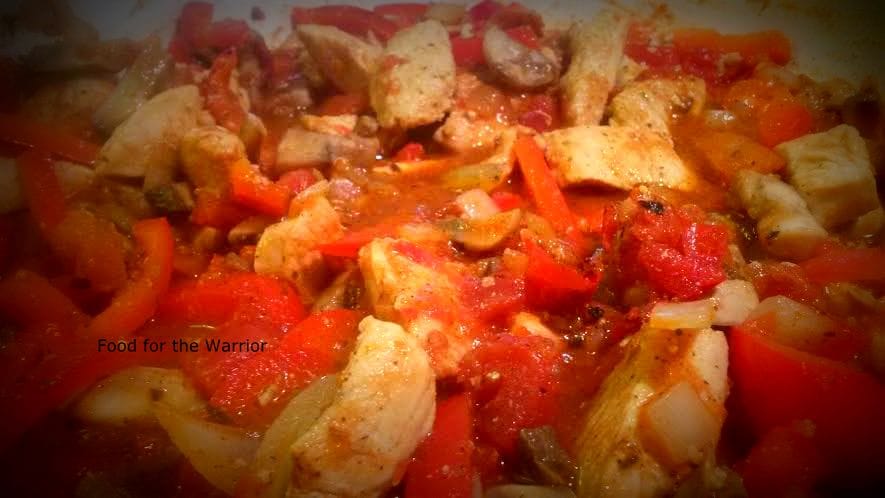 Ingredients
3 Chicken Breast, cut into strips
1 tsp freshly ground black pepper, plus more to taste
3 Tbsp of Rice Bran oil or fat of choice
1 large Red Bell pepper, chopped
1 Onion, chopped
2 cups Mushrooms, sliced
3 Garlic cloves, finely chopped
3/4 cup dry White wine
1 ( 28-ounce) can Mari Glen Fire Roasted Tomatoes
3/4 cup Chicken Broth, I used homemade
1 1/2 tsp dried Oregano leaves
1 Tbsp of dried Basil leaves
Directions
Heat a large skillet with the 2 tablespoons of oil over medium-high heat. Add the cut up chicken breasts & cook for about 5 minutes or until no longer pink. Set chicken aside.
Add the remaining oil to the pan & saute the mushrooms, bell pepper, onion and garlic over medium heat until the onion are translucent .
Now add the wine & simmer for 3 minutes. Then add the tomatoes, chicken broth, & oregano. Return the chicken back to the pan and bring the sauce to a simmer. Continue simmering over medium-low heat for about 20 minutes. Sprinkle with fresh grated cheese (optional).