Chicken coconut curry recipe
It looks a little fancy, doesn't it? Well, it's the most unfussy dish to make, and is filled with nutrients that will keep you feeling great.
This simple coconut chicken curry it's creamy, colorful (isn't just amazing that bright yellow color of turmeric?), full of flavor and incredibly healthy. If you don't like yellow in your plate or you don't easily find turmeric, then you can skip the turmeric.
The recipe is mild spicy, you can increase or decrease the level of heat as per your own taste. I used coconut oil but any vegetable oil will do too.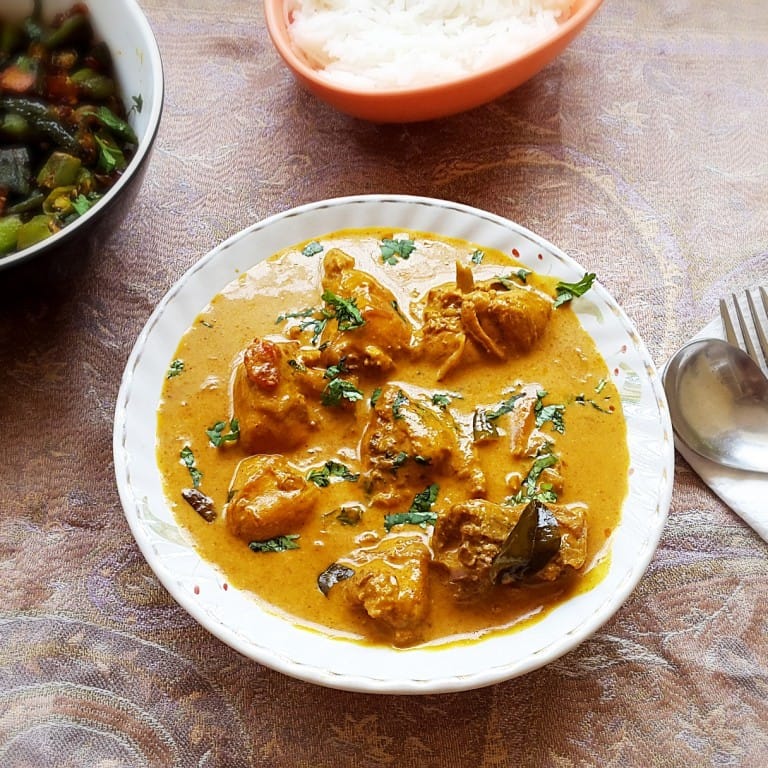 Ingredients
400 gm chicken pieces;
2 onions, julienne cut;
1 tbsp grated fresh ginger or paste;
1 tsp crushed garlic;
2 green chillies,cut into big pieces;
1 tomato, peeled and cubed;
½ tsp turmeric powder;
1 tsp cumin powder;
1 tbsp coriander powder;
½ tsp red chilli powder (for a mild spicy curry) or as per taste;
salt as per taste;
200 ml thick coconut milk;
1 cup of water;
3 tbsp coconut oil or vegetable oil;
few curry leaves;
few fresh coriander/cilantro leaves to garnish.
Directions
On medium flame, heat oil into a pan. Add onions and fry until golden brown.
Add ginger, garlic, curry leaves and green chillies and stir fry for one minute. Add turmeric powder, cumin powder, coriander and red chilli powder, stir and fry for about 30 seconds.
Now add tomato and fry for 2 minutes. Bring the chicken pieces into the pan, add salt and mix well. Let it cook for 5 minutes, stirring occasionally.
Add a cup of water, cover the pan and let it cook for 20-25 minutes.
Lower the flame and add coconut milk. Simmer for 10 minutes. Garnish with fresh coriander/cilantro leaves and serve warm with boiled rice or your favorite bread.