Melt 2 tsp. coconut oil in large skillet. Gently whisk eggs in small bowl with 2 tsp. aminos.
Add to heated oil, and gently scramble until cooked through. Remove from pan and set aside.
Add remaining coconut oil to pan and melt over medium heat. Add diced onion, and cook until translucent.
In meantime steam your chosen veggies (tonight I used broccoli, edamame, and red bell pepper), until thoroughly heated, but still slightly crisp.
Once onions are translucent, turn heat to high for 90 seconds, then add all veggies, cauliflower \"rice\", chicken and egg. Mix thoroughly. Add as much Braggs Aminos as desired to your taste, and cook until heated through.
Serve warm, with chopped scallions or chives if you\'d like.
You can also choose to sprinkle sesame seeds or chopped peanuts over the top.
You can also mix this up if you have leftover steak, or pork, or even some seafood!
[ingredients]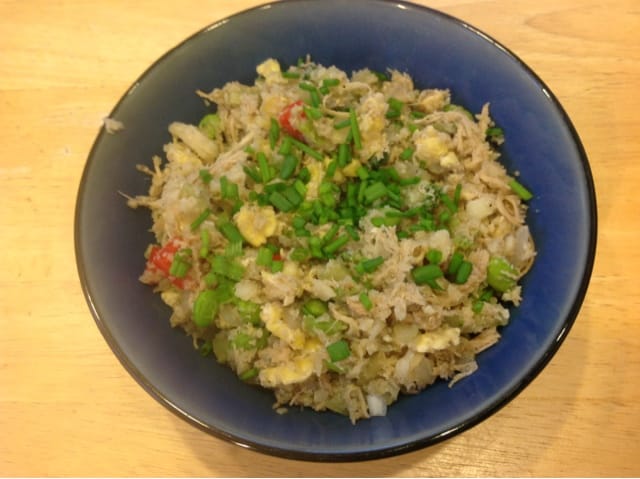 Ingredients
1 large head cauliflower, riced
3-4 oz. cooked chicken, dieced or shredded
1/2 medium onion, diced
Braggs Liquid Aminos
4 large eggs
2 C. vegetables of choice
2 Tbsp. coconut oil