Boil chicken breasts for 12-15 minutes or until cooked through. Combine eggs with 4 cloves of garlic and Italian seasoning. When chicken is done, blend it up in food processor or blender (you'll want to blend them 2 at a time so they shred thoroughly, then put them into a mixing bowl).
Add egg mixture to chicken and form it into a dough.
This recipe made 1 LARGE pizza, so grab 1 baking sheet and 1 piece of parchment paper to line the pan. You can make two smaller pizza if you want. Just separate dough equally and roll out to desired size.
Bake for 12-15 minutes in a 425 degree oven.
While the crust is baking, melt down the coconut oil in a saucepan and add 2 large cloves of shredded garlic. When crusts are finished, take them out of the oven and let them cool for a few minutes. Coat the crust with a this layer of the coconut oil mixture.
Now it's time for toppings! You can get as creative as you want. This time I used zucchini, broccoli and pine nuts*.
Bake again for 15 minutes or until cheese is melted/toppings are cooked.
*Did you know that Pine nut when toasted taste similar to cheese. This can allow to you use little to no cheese.
[ingredients]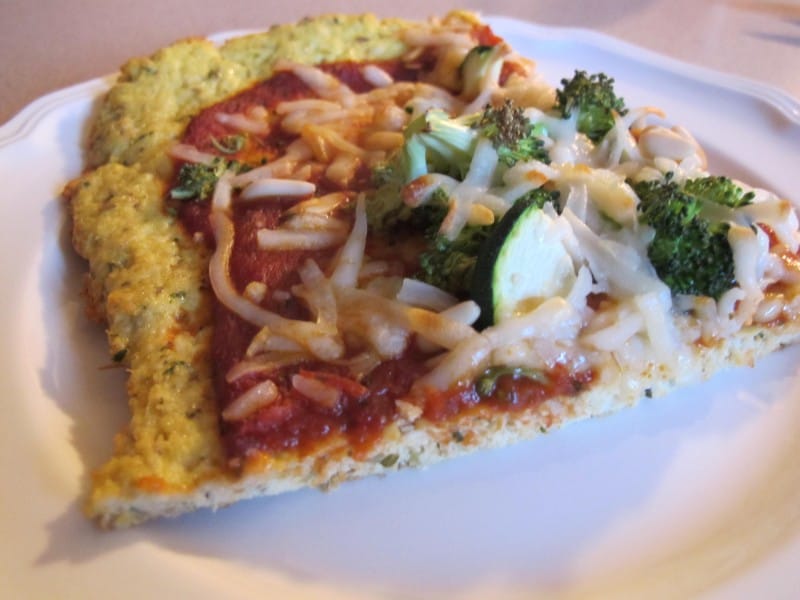 Ingredients
3 Chicken Breasts
6 cloves garlic, minced
5 eggs
2 TBSP Italian Seasoning
1 can organic or homemade pizza sauce
4 TBSP Coconut Oil
cheese (optional)
TOPPINGS