Chicken & Pesto Spaghetti Squash Skillet.
Savory Spaghetti Squash with Chicken Sausage and Vegetables in every bite.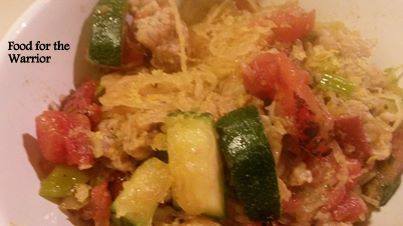 Ingredients
1 medium Spaghetti Squash
1lb of Chicken Sausage
1 Leek, cleaned and diced
1 medium Zucchini, diced into chunks
1/2 of a Green Pepper, diced
1 (14.5 oz) can of Mur Glen diced Fire Roasted Tomatoes
1 Tbsp of Garlic, minced
1 Tbsp of oil
2 Tbsp of Pesto, I used my homemade Pesto which is in my first cookbook.
Directions
In a skillet on medium heat add the oil & sausage; let cook until no longer pink. With a slotted spoon remove the sausage to a plate lined with a paper towel. In the same pan with sausage drippings sauté the leeks, zucchini, & the peppers.
While this is cooking cut your squash in half ****( I found it handy to cut a little piece off of the bottom of the squash to make it stable to cut)*** clean out the seeds and microwave for 8-10 minutes. (This also depends on the size of your squash). Add the tomatoes to the vegetable mixture; let simmer on low heat for 5 minutes.
With caution get the squash out of the microwave, let cool for 5 minutes. With a fork scrap the squash from one end to the other, this is how the squash got its name, it resembles spaghetti noodles. Add the spaghetti squash to the pan, now add the pesto. After making sure the pesto is incorporated salt and pepper to taste. ENJOY!! Wonderful Braggs Nutrional Yeast or cheese of your choice.