For me, the best part about pizza is the sauce, cheese and pepperoni! So why not just make a meal with those three ingredients, and throw in some organic pastured chicken thighs for some added protein? Kids love this dish, especially if you call it "Chicken Pizza Casserole!"
You can add your favorite pizza toppings- mushrooms, sausage, onion, olives, peppers, etc. Just keep in mind that some vegetables will give off more water than others, and you may have to adjust your baking times accordingly.
Check out my other recipes at www.keirstenskitchen.com.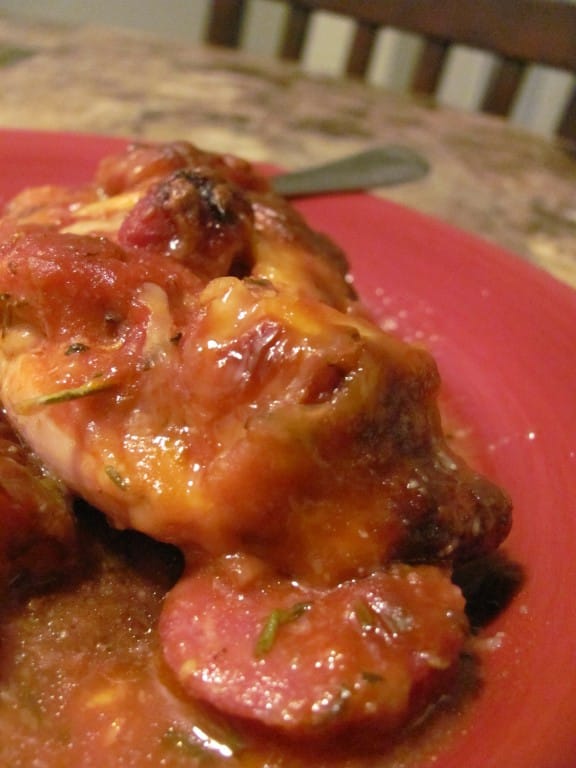 Ingredients
2 lbs pastured chicken thighs (boneless work best for this recipe)
2 cups organic tomato sauce
handful or so of pepperoni, cut into chunks
About a Tbsp of mixed spices. I used garlic and Italian seasonings.
2 cups grated mozzarella cheese
Directions
Preheat oven to 400 F. Place chicken in a casserole dish large enough for single-layers of chicken thighs and sauce to be added.
Add the pepperoni chunks, spreading evenly over the chicken.
Mix your chosen spices with your tomato sauce. Spread the sauce over the pepperoni and chicken.
Top the sauce with the grated cheese.
Bake at 400 degrees for approximately 40-45 minutes. Let cool for a few minutes before serving. Enjoy!