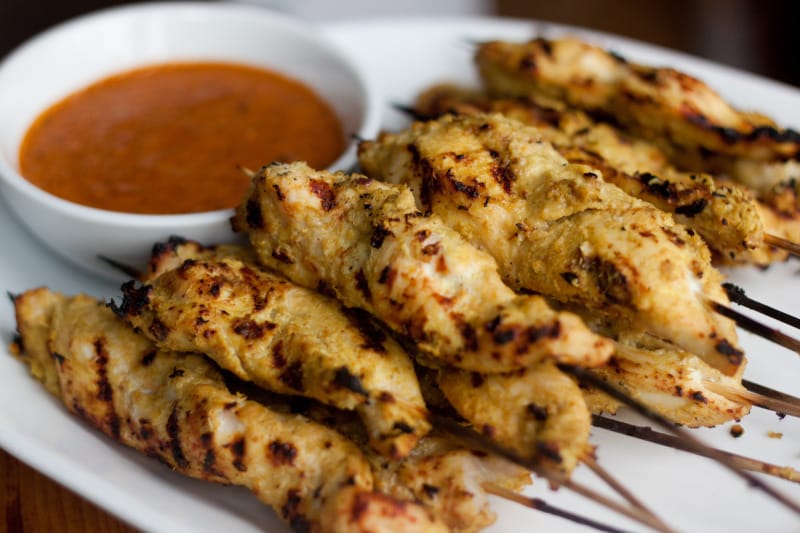 Ingredients
Five or six boneless, skinless chicken breasts or thighs
1/2 tbsp each fennel seeds and crushed coriander seeds
2 stalks of lemongrass, tops and bottoms removed, chopped (about 1 cup)
1 large shallot and 4 cloves garlic, chopped
1 tsp each ground galangal and ginger
1/2 tsp turmeric powder
2 tbsp coconut palm sugar (optional)
2 tsp coconut oil
2/3 cup coconut milk
1 tsp salt
Directions
Cut the chicken lengthwise into pieces that are one inch wide, set them aside. Blend the rest of the ingredients until they make a smooth paste. Keep an eye on the lemongrass, because that especially needs to be well-ground.
Put the marinade in a gallon-sized ziploc bag with the chicken pieces, and marinate for two to four hours in the fridge.
Nearing the end of your marinating time, soak about 20 skewers in cold water for 30 minutes, and then take out the chicken. Skewer the chicken pieces in a weaving pattern, piercing them about every inch or so as you can see above. Reserve the marinade.
Grill the chicken on a med/high heat on the grill, turning the pieces every five minutes. When you first turn the chicken, brush on the reserved marinade. It should take about 10-15 minutes altogether to grill them – the easiest way to tell if they're cooked through is if the meat is firm and not squishy.