Chicken Soup for the Soul
Soothing Paleo Chicken Soup when you just need a bowl of goodness.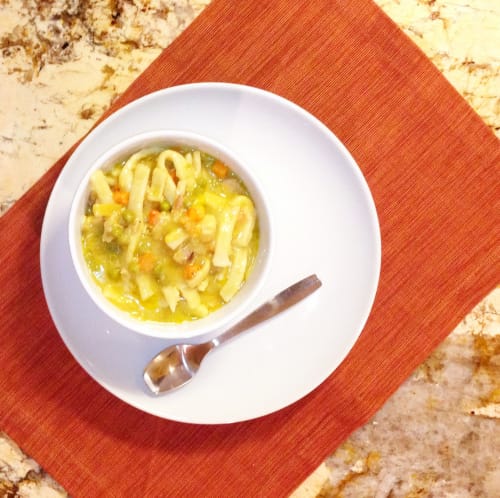 Ingredients
4 Tbs. Kerrygold, Irish butter
1 small yellow onion, diced
1 c. carrots, diced
1 c. frozen peas
Sea salt and pepper
6 c. chicken stock
1 lb. boneless chicken thighs
1 pkg. Capello's Grain Free Fettuccini
Cups of love and oodles of joy
Directions
In a large stockpot, over medium heat, melt Kerrygold. Add diced onion and cook until translucent. Add carrots and peas, as well as salt and pepper. Cook until soft. Add stock and chicken thighs. Bring soup to a boil and then reduce to a simmer for 30 minutes, until chicken is completely cooked through. Remove thighs and place in a separate bowl. Using two forks, carefully shred the chicken thigh meat and then return to soup mixture. Add noodles. Continue to simmer for 30 minutes.
Soothe the soul. Consume. Breathe in the the healing love and savor the joy.