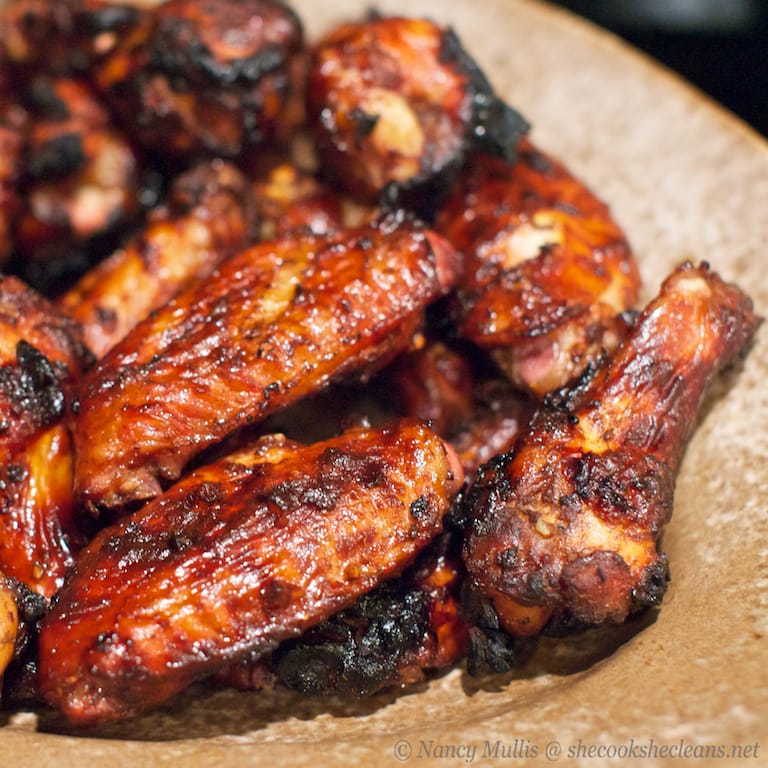 Ingredients
3-4 pounds chicken wings
1/4 cup apple cider
3 tablespoons honey
1 chipotle pepper in adobo, minced
2 large cloves garlic, minced
1 1/2 tablespoons tomato paste
1 tablespoon unsweetened cocoa powder
1 teaspoon chili powder; 1/4 teaspoon cayenne pepper
1/2 teaspoon of each of the following: ground cinnamon, ground cumin, ground coriander, Kosher salt
Lime slices, for serving
Directions
In a medium-sized bowl, whisk together all the ingredients (except the wings and limes) until well-mixed. Place the wings and marinade in a large resealable bag; shake and squeeze the bag to coat the wings thoroughly. Refrigerate for at least 6 hours, or preferably overnight. Turn bag occasionally.
Set up a grill for indirect cooking at 375-400F.
When coals are ready, grill the wings for 15 minutes, then flip the wings and grill for another 15 minutes. Move them around as necessary to cook the wings evenly. Keep flipping them until the skin is crispy and they are done – around 45 minutes for wing portions, or around 60 minutes for whole wings (when they start getting loose at the joints, they are usually done).
Serve with a squeeze of lime.