NOTE: It\'s only the filling that contains dairy…by replacing it with a favorite filling of your choice you can easily make this one totally dairy free!
==========
Pre-heat the oven to about 350F.
I started by doing the crust. Add all ingredients into a bowl and mix them until it's a very thick paste/dough.
Form the dough into a ball and place in the middle of a greased pie pan, and then press it out until it covers the bottom and edges.
Then, using a fork, make a few holes in the dough.
Place in the oven and pre-bake for 20 minutes.
When done, take it out of the oven and increase the temperature to about 390F.
(Note: The dough rises quite a bit in the oven…make sure the crust is in a very thin layer before pre-baking.)
While the crust is pre-baking, prepare the fillings:
Cut the chicken and sun dried tomatoes into small pieces, and slice the onion.
Fry it in butter or olive oil with a bit of salt and pepper until it has got a nice color.
In a bowl, beat the eggs, cream, salt and black pepper.
Then spread the chicken/tomato/onion mix and the grated cheese evenly over the crust.
Pour over the egg/cream mixture and make sure it fills up every little cavity to bind it all together, and then place the broccoli on top.
Put it back in the oven and bake for another 30-40 minutes (should have a really nice color by then).
==========
NOTE: If you have questions or comments you wish me to respond to, please post them at the original post at the blog: http://strictlypaleoish.wordpress.com/2012/04/30/chickenbroccoli-pie/
[ingredients]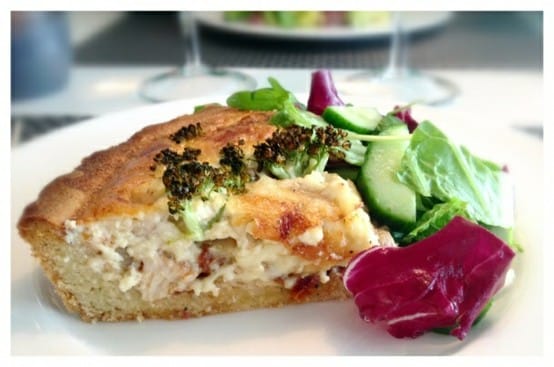 Ingredients
Crust:
3 cups Almond Meal., 3 Eggs, 4 tbsp Olive or Walnut Oil, 3/8 tsp Baking Powder..
Filling:
2 Chicken Breasts, 1 Onion, A few Sun Dried Tomatoes, 1 head of Broccoli, 1 cup grated flavorful Cheese, 3 Eggs, 1 1/4 cup Cream, 1/2 tsp Salt, 1 tsp crushed Black Pepper.