We love the grass-fed, sugar free beef franks from US Wellness Meats, and I'm always searching for new ways to use them besides simply roasting or frying them. This dish has all the familiar flavors of a chili dog, minus the soggy bun!
The chili is sort of a Cincinnati-inspired chili, with somewhat deep, complex flavors compared to a southwest-style chili. It really complements the simple spice blend of the beef franks. And while it dawned on me that Chili Dog Bowls is sort of funny, it was much easier to eat when served in a bowl!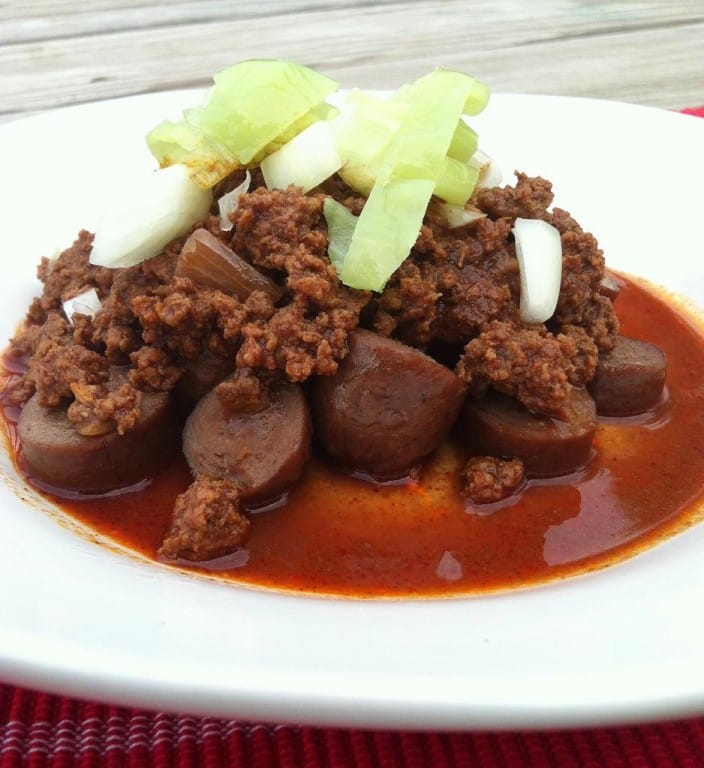 Ingredients
1 lb beef franks
1 Tbsp animal fat or coconut oil
1 lb ground beef
1 large onion, chopped
1 clove garlic, minced
2/3 cup beef bone broth
1/3 cup tomato paste
2 tsp cacao powder
2 tsp chili powder
1 tsp cumin
1 tsp salt
1/2 tsp black pepper
1/4 tsp cinnamon
Other Topping Ideas: tomato, pickles, bell pepper, jalapeno, pickled peppers, sauerkraut, mustard, paleo ketchup, shredded cheese if you do dairy
Directions
Begin to brown ground beef in a skillet or pot. When halfway browned, add garlic and 1/2 to 3/4 of the chopped onion (depending on how much you want to leave for topping later) and cook until beef is fully browned.
Add spices/seasoning, tomato paste and bone broth. Bring to a boil, reduce heat and simmer 10 minutes, until chili is thickened.
As the chili simmers, heat fat/oil in a skillet over medium high heat, cut franks into bite-size pieces and cook until heated through, about 5-7 minutes.
Place franks in individual bowls and top with chili, remaining chopped onion and any other desired toppings.