Chipotle Deviled Eggs with Avocado
DEVILISH DEVILED EGGS: MAKE THEM HOT, CREAMY, AND SINFUL
It's no secret I love a great deviled egg. The first round was such a hit, that I've been experimenting like crazy.  This is my best hit yet. Even my boss loved them.
It all began when I stumbled upon Sir Kensington's Chipotle Mayo.  I'm already a huge fan of the regular variety and I just couldn't help myself from an impulse buy when it was on sale.  But I was at a loss for how to actually enjoy it short of spreading it on a lettuce leaf and making some makeshift turkey sandwich (boring… unless you add bacon… hmmmm – stay tuned).  In any case, I wracked my brain for all of the recipes that use mayo and I happened to have a surplus on eggs on hand.  It instantly became a no-brainer.  I had to give it a shot.
And thus the spicy deviled egg was born.  The heat is formidable, I warn you.  But the addition of avocado on top balances the flavor profile so that once you pop you just can't stop.  I'm surprised I even had enough on hand to let my boss try them.  (I'm telling you – surplus of eggs).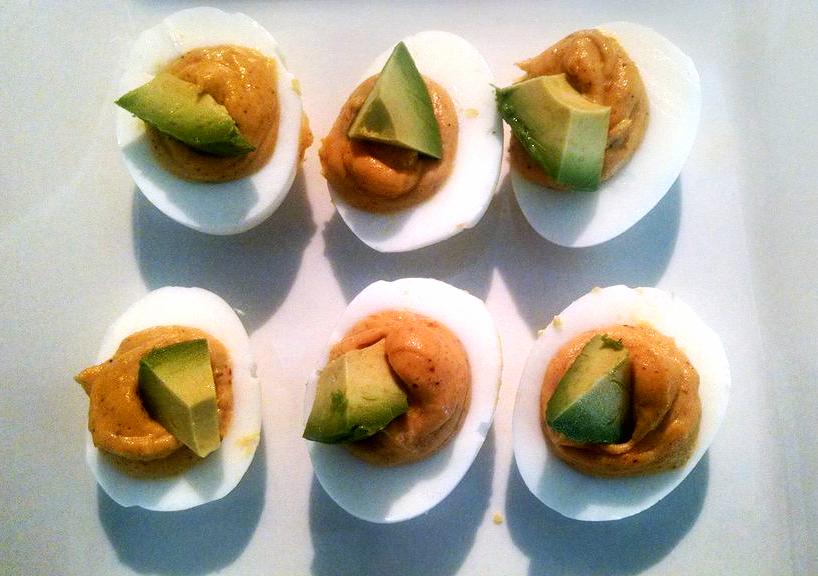 Ingredients
3 Hardboiled Eggs
1 Tbsp Sir Kensington's Mayo
1 Tbsp Sir Kensington's Chipotle Mayo
1 Tsp lemon juice
1/4 Avocado
Salt and Pepper
Directions
Slice the eggs lengthwise and carefully put the yolks into a bowl. I like to gently press on the back side of the yolk to "pop" it out.
Add the mayos, lemon juice, a pinch of salt, and a pinch of pepper to the yolks. Blend with a stick blender until creamy.
Spoon the mixture into a plastic baggy, seal it, and snip off a corner. Then pipe it into the empty egg white halves.
Dice your quarter of avocado into 6 chunks and top each egg.