Chipotle-Lime Marinade for Pork or Chicken
Place marinade ingredients in a small food processor bowl and process until garlic and chile are well blended. This marinade will act as a brine to help keep the food moist when cooking, as well as adding awesome flavor!
Recipe suggestion: Make kebabs using cubed pork tenderloin (or skinless, boneless chicken breasts), zucchini, and red bell peppers.
Put pork or chicken cubes in a gallon-size, resealable bag and pour marinade into bag. Mix together well and refrigerate from 2-6 hours.
Place zucchini and peppers into a large bowl and toss with enough olive oil to coat. Season with salt and pepper and toss again.
Fire up the grill and bring it to a medium high temperature (around 400F). Spread coals around to produce as even as heat as possible.
Thread the meat on skewers, pushing the skewer in against the grain of the meat. On separate skewers, thread the zucchini and peppers.
When the grill is ready, spray the grill with oil and arrange the vegetable skewers on the grate. Close the grill and cook for around 15 minutes, turning every 5 minutes, until vegetables are tender and slightly charred. Remove the skewers to a baking dish and keep warm in a 150F oven, if desired. (Vegetables also good at room temperature.)
Now arrange the meat skewers on the grill and grill for 15-20 minutes, turning every 5 minutes, until meat is cooked to desired level of doneness. To serve, garnish with some chopped cilantro and give it a good squeeze of lime juice!
[ingredients]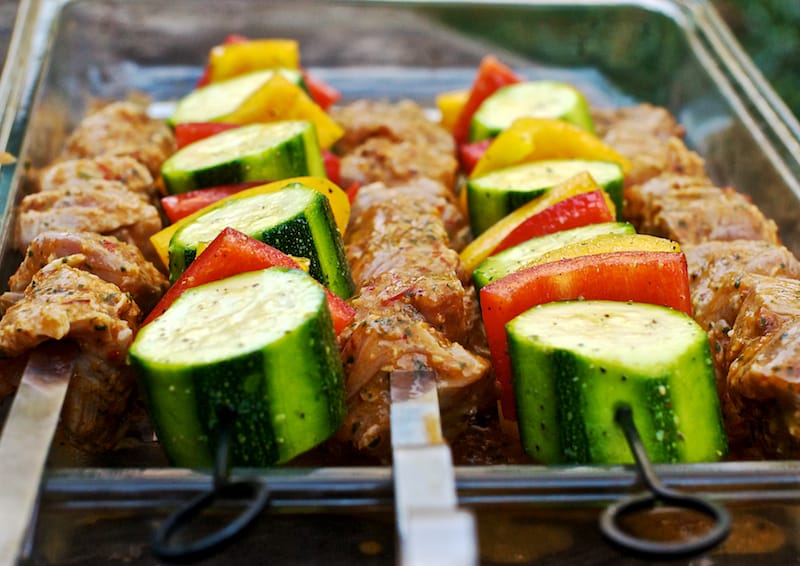 Ingredients
1/4 cup extra-virgin olive oil
1 chipotle chile, from canned chiles in adobo sauce
4 tablespoons fresh lime juice
1 tablespoon raw agave nectar
2 tablespoons water
3-4 cloves garlic, peeled
1 teaspoon kosher salt
1/2 teaspoon ground cumin
Cilantro leaves from 4-5 stalks (small handful)