This is Halloween special recipe. You can make it ti enhance your Halloween celebration at your home. This is great in taste and also easy to make but you just perfect in drawing for horror look of cake hahaha well…. Now!!! Go in your kitchen and start making Cheesecake, please mind it don't draw horror like you hahaha… Make it, Taste it and Have fun. For more click here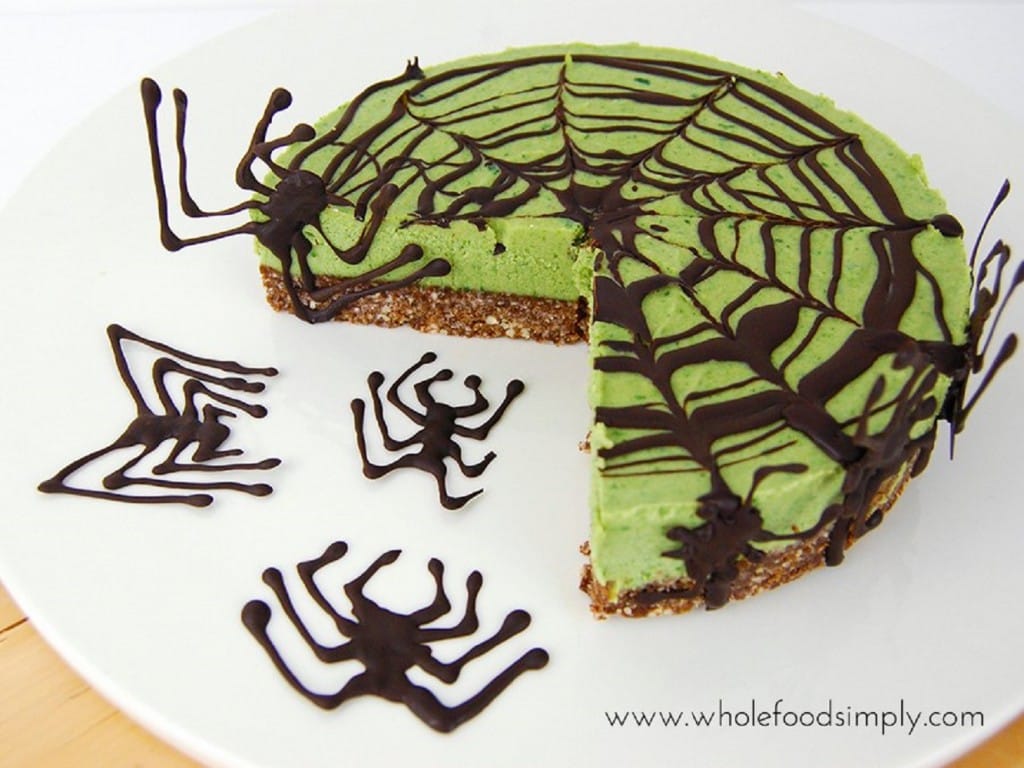 Ingredients
BASE
1 cup cashews
1 cup desiccated coconut
10 medjool dates, seeds removed
2 tablespoons cacao or cocoa
1 tablespoon coconut cream
pinch of salt
1/2 teaspoon natural concentrated vanilla extract
TOPPING
1 cup cashews
1 cup coconut cream
4 tablespoons coconut oil
4 tablespoons honey
1/2 cup frozen spinach
1 teaspoon peppermint extract
20 grams of dark chocolate, for the web (optional)
50 grams of dark chocolate, for the spiders (optional)
Directions
Place the 1 cup of cashews and 1 cup of coconut cream that we use in the topping into a bowl and set aside.
Place the base ingredients into your food processor and blend at high speed until the mixture is well combined and resembles a sticky crumb.
Press the base firmly into a circular 18cm spring form pan and set aside.
Place the cashews, coconut cream, coconut oil, honey and spinach into your food processor and blend at high speed until the mixture is smooth, something close to a smoothie texture.
Add the peppermint extract and quickly combine.
Pour the topping over your base and place in the fridge to set. This takes around six hours, if you would like to speed up the process you can place it in the freezer.
To decorate with a web, melt your chocolate for the web and remove the cake from the pan. Use a large teaspoon to drizzle a spiral of melted chocolate on top of the cake. Start from the centre of the cake and spiral your way out to the edges. Use a skewer to then drag lines from the centre to the outside of the cake, creating your web.Place the cake back into the fridge so that the web can set.To make the spiders melt your chocolate. Use a skewer to pierce a small hole in the bottom corner of a sandwich sized snap lock bag.Place a piece of baking paper onto a flat tray.Fill the bag with the melted chocolate and pipe chocolate spiders onto the baking paper. Once you have used up all of the chocolate place the spiders into the fridge to set.Attach the spiders to the cake using small amounts of melted chocolate.