heat the coconut butter or oil until its at a near-clear liquid state. Add and stir in the carob, cocoa and flax meal in a small, shallow container. Stir in a dash of cinnamon and a very small amount of sea salt (to taste). Add the almonds and dried cranberries.
throw it in the freezer and enjoy in about 30-40 min or just let it sit and cool to enjoy later.
note:
Depending on the shape and depth of the bar you are trying to create, be aware of the coating on the nuts and cranberries. you want stir them in little by little until you can see a some space between the almonds and cran, but not exactly nothing.
As you can see in my pic, I used a small, shallow container and it came out really well…..and super paleolicious!
[ingredients]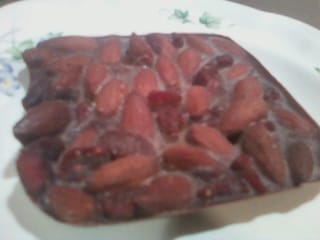 Ingredients
1 tspn cocoa powder
1tspn carob powder
1 tblspn coconut oil
1oz dried cranberries
1.5 oz almonds
cinnamon
sea salt
1 tspn flax meal