After an amazing Summer break I have to go back to work tomorrow (insert boooo.. here)….so what\'s a girl to do on her last day? Make some unbelievable SUGAR FREE, GLUTEN FREE, DAIRY FREE CHOCOLATE BROWNIES! It sure did cheer up my day and I hope you enjoy this recipe too.
Preheat the oven to 180deg C (355F)
Add the dates, walnuts and sultanas to a food processor and blitz until they are roughly chopped. If you don\'t have a food processor chop up the dates and crush the walnuts.
Mix all the ingredients together in a bowl until you everything is combined together and you have a sticky paste.
Line a baking tray with some baking paper and fill the tray with the brownie mix.
Bake in the oven for 20 minutes.
Don\'t forget to LIKE the Grow Eat Run Facebook page and let me know in the comments any questions you have or any suggestions for recipes that you would like to see. ~ Tors.
[ingredients]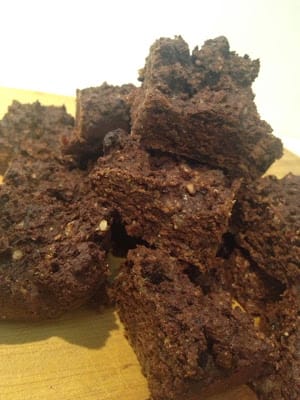 Ingredients
1 cup dates - roughly chopped
1 cup walnuts - roughly chopped
1/2 cup sultanas
1 banana - mashed
1 tsp vanilla extract
1/2 cup cacao
4 Tbs coconut flour
1/4 cup maca powder - if you don't have maca powder you can leave this out and it won't affect the recipe.
1 Tbs baking powder
3 eggs