Chocolate Covered Cookie Dough Bites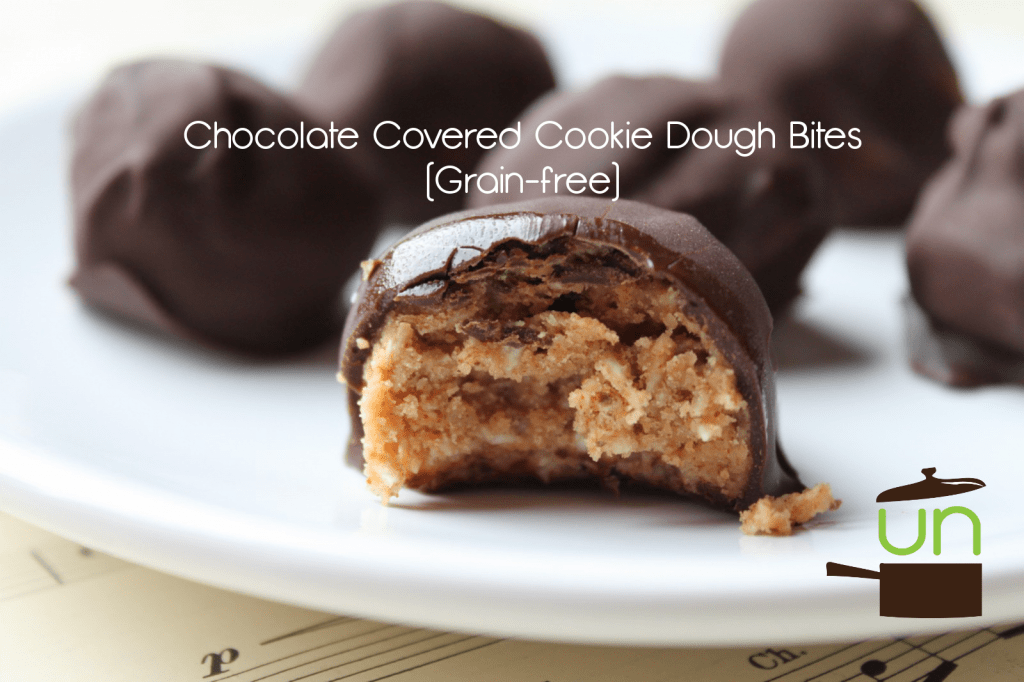 Ingredients
1 cup almond butter
1/4 cup honey
2/3 cup unsweetened, shredded coconut
1/2 tsp. salt
2 tsp. vanilla
(optional) 1/3 cup dark chocolate chips for dough
(optional) 1 cup dark chocolate chips for dipping
(optional) 1 tsp. coconut oil for dipping chocolate
Directions
Combine almond butter, honey, coconut, salt, vanilla and 1/3 cup chocolate chips (if using) in a bowl and mix until all ingredients are incorporated.
Put bowl in fridge until dough is easier to roll into balls. (This time will totally vary depending on how runny your almond butter is. If after an hour or two the dough is still way too sticky to roll into a ball, try adding a bit more coconut.)
Roll dough into 1″ – 1 1/2″ balls. Place on wax paper lined plate. After rolling all the dough into balls, place plate in freezer.
Melt dark chocolate chips and coconut oil in a double-boiler over low heat.
Dip frozen (or partially frozen) balls into chocolate and place again on wax paper lined plate. Return plate to fridge or freezer for chocolate to harden.
Enjoy!!
*Store in fridge or freezer as the melted dark chocolate seems to melt on your fingers quite quickly. My preference is the texture out of the fridge, but others might prefer frozen!