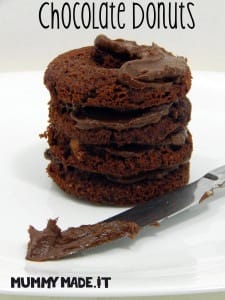 Ingredients
2/3 Cup Almond Meal
1/3 Cup Arrowroot
1/4 Cup Cocoa
1 teaspoon Baking Powder
1/4 Cup Maple Syrup/Honey
1/2 teaspoon Salt
2.5 Tablespoon mashed Sweet Potato (see notes)
1/2 Cup Milk (of Choice)
1 teaspoon Vanilla Extract
1 Egg
Directions
Preheat oven to 200C/400F and grease a donut pan (a mini-muffin pan can also be used but cooking times will vary).
Sift the dry ingredients together in a bowl.
In a separate bowl, whisk all wet ingredients together.
Combine wet and dry ingredients, stirring gently until just combined.
Pour the mixture into a piping bag and fill up the donut pan rings. (don't fill batter higher than 3/4 of the way up). This is easier than than spooning the mixture in.
Bake for 10 minutes (possibly a bit longer if you are not using a regular sized doughnut pan). Be careful not to over-bake, especially if you're making mini's. They cook quickly. Allow to cool in the tin before removing.