Chocolate Macadamia Spread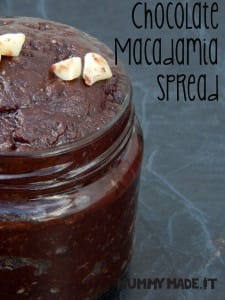 Ingredients
2 Cups Macadamia
1/3 Cup Cocoa
2 Tablespoons Maple Syrup
2 teaspoons Vanilla Extract Optional
1-2 Tablespoons of Milk (of choice) (do not add if making biscuits or donuts)
Directions
Place the Macadamias in a blender and process until smooth (this won't take too long as Macadamias are a soft nut).
Add the remaining ingredients and blend until smooth and well combined.
If your spread is too thick (mine didn't require any milk) add the milk 1 Tablespoon at a time until the desired consistency is reached.
Store in a sealed container.