Chocolate Marbled Banana Bread
I have been meaning to come up with a healthy banana bread recipe for a while now. Well, I finally did it! Not only did I come up with a banana bread recipe, I came up with a CHOCOLATE MARBLED BANANA BREAD recipe! Go big or go home right?
Find the rest of the blog post at www.foodbykatie.com/2016/01/28/chocolate-marbled-banana-bread/      🙂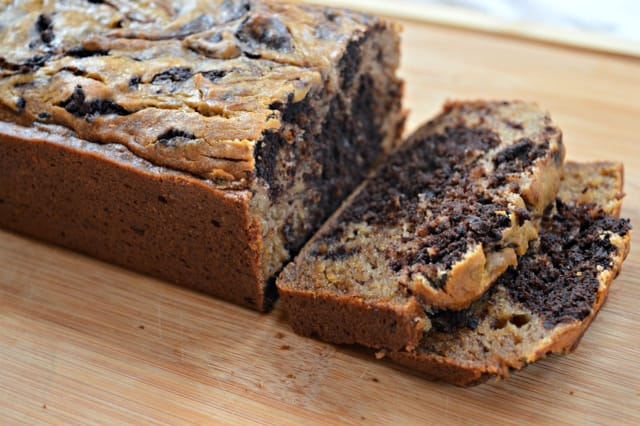 Ingredients
1.5 cups Cassava Flour (183 grams)
1 tsp. baking soda
1/2 tsp. sea salt
1 cup mashed banana from 2 – 3 very ripe bananas (the browner the better)
2 large eggs
1/3 cup pure maple syrup
1 tsp. vanilla extract
1/3 cup almond milk
1/3 cup melted coconut oil
3 oz. of chocolate chips or chopped chocolate
Directions
Preheat your oven to 350 F and grease a 8½ x 4½" loaf pan.
In a small bowl, combine the dry ingredients.
In the bowl of a standing mixer (you can also use a hand mixer), add the mashed banana, eggs, maple syrup, vanilla and almond milk. Mix until fully combined.
While the mixer is still going on low speed, slowly add the melted coconut oil and continue mixing until combined.
Add the dry ingredients to the wet ingredients and mix or stir just until the ingredients look evenly combined.
In a small saucepan, melt the chocolate over very low heat
Combine the melted chocolate with 1/2 cup of batter.
In your prepared loaf pan, add a layer of the plain batter and then add a few dollops of the chocolate mixture on top. Continue alternating with the plain batter and the chocolate batter until it's all in the pan.
Using a knife, create large swirls in the batter until it seems like the chocolate batter isn't as clumped together.
Bake for 55 – 60 minutes or until a toothpick stuck into the center of the loaf comes out relatively clean.
Allow the bread to cool in the pan for 10 minutes. Remove it from the pan and let it cool completely before cutting it.
Enjoy!