Chocolate-Mint Cookie Dough Bites
Prepare sweet potato or yam as noted by the (*) below.
Add coconut to bowl of food processor. Process on high until VERY finely shredded (almost a powder). Then add all other ingredients (mashed sweet potato or yam, chopped dates, cocoa, sal, and mint). Process on high until completely combined. Scrape down sides and process again. Soon, a large "mass" of dough will form. Excellent! That means you're done!
The dough should be the perfect consistency to roll into little "cookie dough bite" balls. Eat immediately, or — for best flavor and texture in my opinion — refrigerate or freeze for 30 minutes or longer. Store leftovers in tightly sealed container… These are fantastic straight out of the freezer.
* There are many options for cooking the sweet potato or yam. First, you could peel it, cut it into chunks, and then steam the chunks of sweet potato until soft (then mash)… OR you could bake the sweet potato — whole — in the oven (I like to prick it a few times and wrap it in tin foil, then bake for 50-60 min until soft), and then remove the flesh of the sweet potato from the skin (and mash)… OR you could do as I did, and peel the sweet potato, cut it into small chunks, and roast them in coconut oil for about 25 minutes until they're soft all the way through… Just make sure that you don't roast them so long that they get crispy and brown on the outside. Then mash the roasted chunks. Whatever method you choose, you'll probably have leftover mashed sweet potato/yam since this recipe only calls for 1/2 cup. Hooray! Leftovers rock!
[ingredients]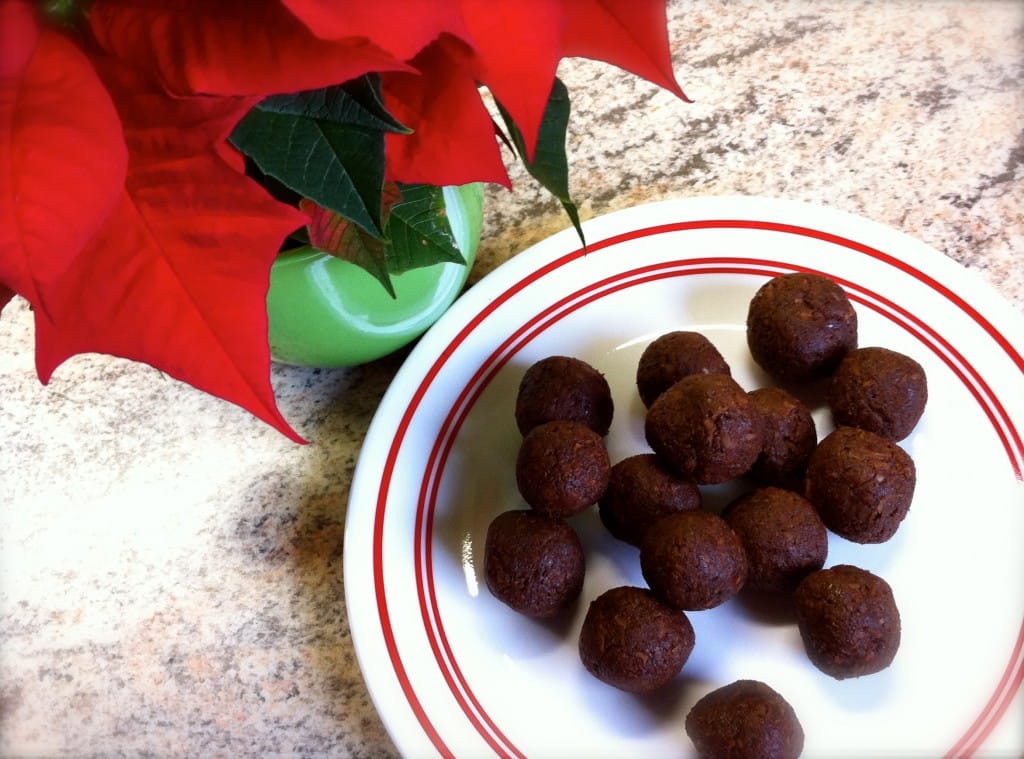 Ingredients
1/2 cup mashed cooked sweet potato or yam*
1 cup unsweetened, unsulfured coconut flakes or shreds
Enough soft, plump dates to equal 3/4 cup when chopped
Scant 1/4 cup unsweetened cocoa powder
Hefty pinch of sea salt
1 tsp pure mint extract