Chocolate Mint POWER Bites
A perfect little snack that tastes like a Junior Mint without all the additives. Great for a pre-workout pop or a post workout recovery!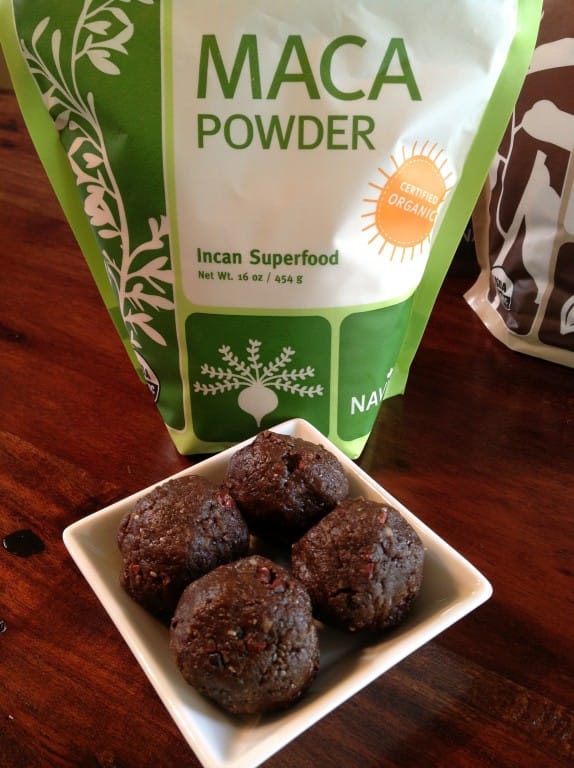 Ingredients
8 Medjool dates
1/3 C raw walnuts
1 1/3 C coconut chips
1 C almond butter
1/4 C chocolate protein powder (I used Nutiva's Hemp Shake)
3 Tbsp raw honey
3 Tbsp raw cocoa powder
2 Tbsp raw maca powder (optional, but will really give you an energy boost!)
2 Tbsp chia seeds
1 tsp vanilla extract
1/2 tsp sea salt
1/2 tsp pure peppermint extract
1/2 C cocoa nibs
Directions
Pull out your trusty food processor, you will need the power for this one! First pulse the dates and walnuts until they ball up in a dough form.
Then add the almond butter and coconut flakes. Pulse again until a uniform dough is achieved. Then add remaining ingredients excluding the cocoa nibs. Pulse until entirely combined and somewhat smooth.
The dough will be very thick! If your nibs are in pieces then I pour the dough into another bowl and add the nibs by hand. If they are big then by all means add them to the processor and give them a whirl with the dough. Take tablespoon sized bits and roll them into small ball shapes. Refrigerate or freeze, they stay together better!