Cider-Glazed Quail with Sausage & Apple Stuffing
I have been wanting to try out a quail recipe for a very long time.  After deciding to stuff these little birds — I knew a mixture of sausage and apple would not disappoint!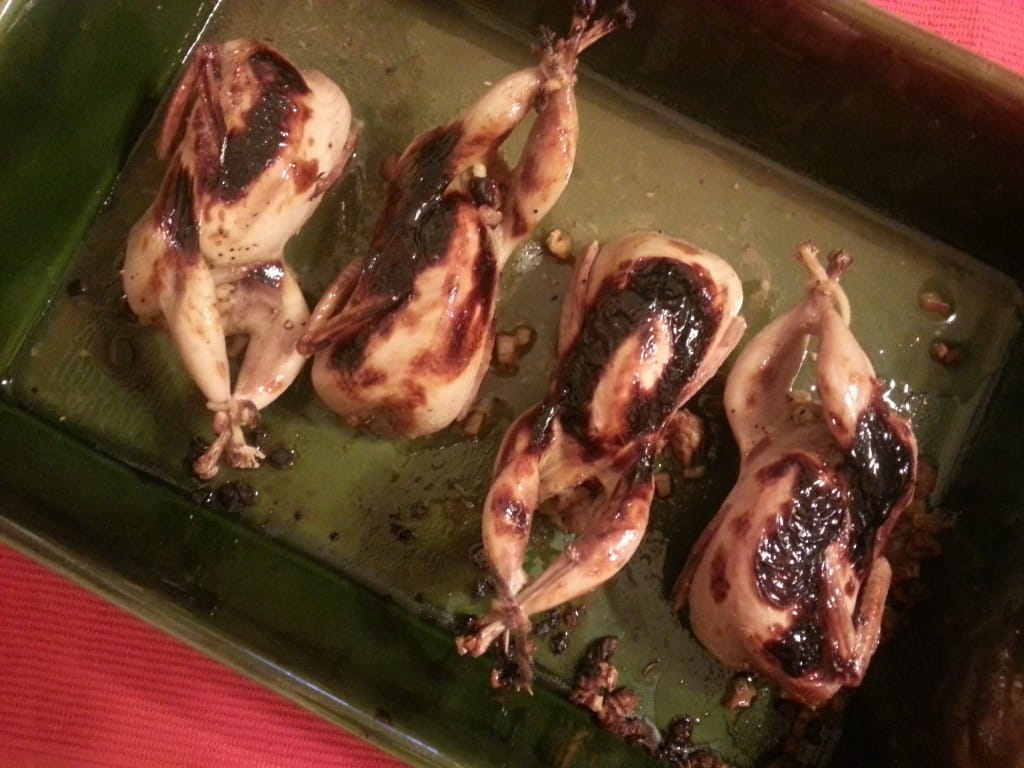 Ingredients
4 whole quail
1 tbsp. olive oil
1 shallot, minced
6 oz. Italian sausage
1 small apple, finely chopped
1/4 c. pecans, finely chopped
1 tsp. thyme
salt & pepper to taste
1/2 c. apple cider
1 tbsp. raw honey
1 tbsp. grassfed butter
Directions
Start by rinsing your quail, pat them dry with a paper towel.
Heat the olive oil over medium heat in a large skillet. Add shallot and stir until translucent.
Add the Italian sausage and break up with a wooden spoon until it is finely crumbled. Continue to cook sausage until it is browned.
Add apple, pecans and thyme. Stir to combine and let the apple cook down a bit — 3-5 minutes.
Set the stuffing aside and let it cool slightly. Meanwhile, whisk together the apple cider and honey in a small saucepan over medium-high heat.
Allow the cider/honey mixture to come to a boil and let it simmer until it reduces by half. This will be 5-10 minutes. Once your glaze has reduced, remove from heat and add the tablespoon of butter. Whisk until butter is melted and well combined.
Sprinkle salt and pepper over each bird. Carefully stuff each cavity with your stuffing — don't pack it in, but you should use over half of your stuffing.
Tie each quail's legs together with kitchen twine. If you don't have any don't worry about it.
Brush birds with the cider/honey glaze. Roast them in a preheated 350 degree oven for 20-25 minutes.
Remove the birds. Set your oven to broil, and brush them with more glaze. Place them under the broiler for 2-3 minutes. This gives them a nice crispy outside and caramelizes the honey! Remove them and brush with glaze a final time.
Serve each quail over a bed of the stuffing you have left over.