Cinnamon Glazed Pumpkin Doughnuts
Preheat oven to 350 degrees
Grease doughnut pan with coconut oil
Combine all ingredients in a mixer, food processor or blender (anything works) except for the Glaze. Note that coconut oil and maple syrup is needed for the doughnut and the glaze. Optional ingredient if it appears too dry, 1 C room temp Applesauce. I like the cinnamon one. Evenly distribute onto the baking pan and bake for 20 minutes. Cool on a cooling rack. When cool, flip over to allow them to fall off pan.
The Glaze:
Combine the coconut oil and maple syrup
Combine the coconut crystals and the cinnamon
Use a pastry brush to brush the top (or all sides) of the doughnut and then dip it onto the dry mix.
Enjoy!
[ingredients]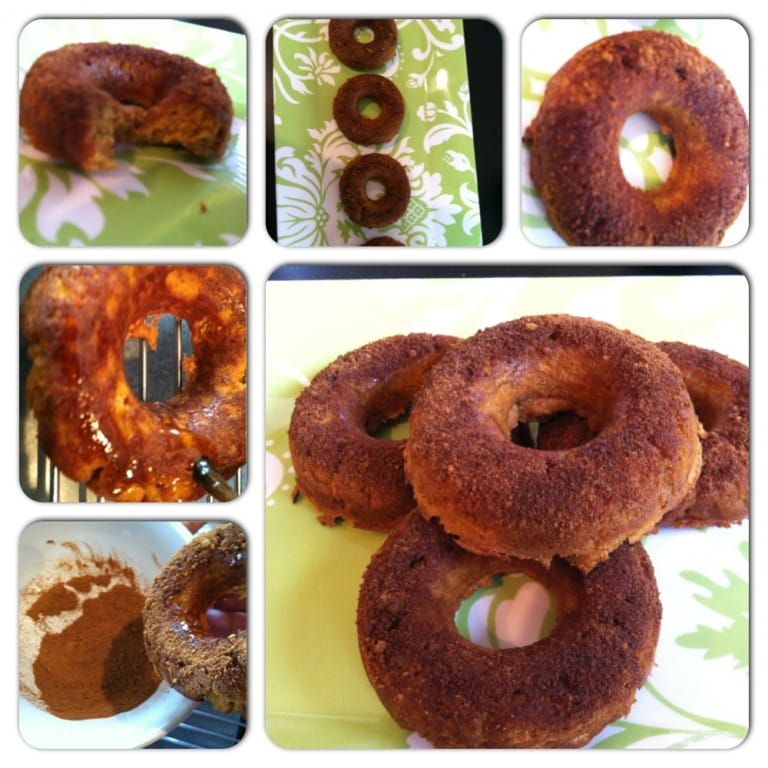 Ingredients
1 C Pumpkin
2 eggs (room temp)
2 Tbs melted coconut oil
2 Tbs maple Syrup
1 tsp Vanilla
1/2 C Coconut Flour
1/4 tsp Salt
1/2 tsp baking soda
1 tsp Pumpkin Spice
Glaze: 2 Tbs Coconut Crystals, 1 Tbs cinnamon, 1 Tbs Coconut Oil melted, 1 Tbs Maple Syrup, 1