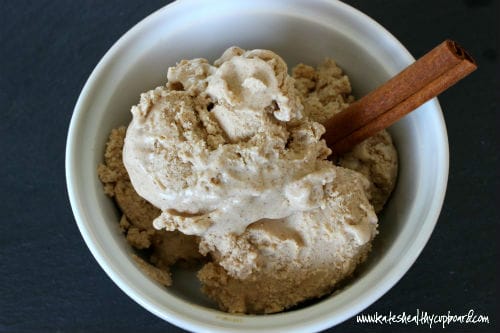 Ingredients
2 cans full fat coconut milk
2 egg yolks*
1/4-1/2 cup sweetener
2 tbsp grass-fed butter, melted (optional, but highly recommended, it makes this recipe!)
2-3 tsp cinnamon
1 tsp vanilla extract
1/8 tsp sea salt
Directions
Add all ingredients to a blender and blend until smooth.
Pour mixture into Cuisinart Ice Cream Maker and follow the directions for the machine. If you don't have an ice cream maker, this can be poured into a bread pan, cover and freeze (it just wont have that churned texture). The bread pan makes it easy to use an ice cream scoop to serve.
Once ice cream is frozen, remove from the maker or the freezer and serve. If you used Swerve, it will harden the ice cream so you may need to let it sit out for a few minutes.
Quick notes: *I use farm fresh pastured eggs from Tropical Traditions so eating them raw is safe. If you don't feel comfortable doing that, read the directions for my pumpkin ice cream for an alternative option of "cooking' the yolks. Make sure to refrigerate the mixture before pouring it into the ice cream maker since it will be warm.