DRESS TO IMPRESS
My favorite meat splurge is rack of lamb.  Not only is it the easiest meat in the world to make (trust me on this, I'm about to prove it to you), but it's one of those meals that impresses the hell out of guests or if you're a single gal like me, I can daintily gnaw on those bones like it's my last meal and it is finger lickin' good.
Here's the deal with my version.  Most people use rosemary in combination with dijon mustard on their racks (and some sort of flour to weaken the flavors – don't ask me why they do that).  But I like to use fresh herbs and I don't have rosemary growing on my windowsill right now.  I have thyme.  Let me tell you, the switch up is astounding.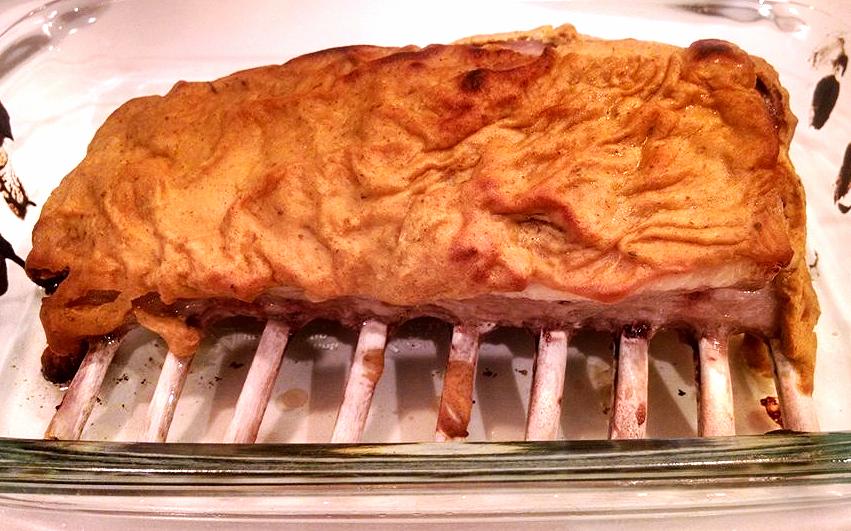 Ingredients
1 frenched rack of lamb
1 tbsp thyme
1 tsp garlic powder (or 2 fresh cloves minced)
1/4 cup dijon mustard
2 tsp balsamic vinegar
1 tsp olive oil
Salt and Pepper
Directions
Preheat your oven to 450 degrees.
In a small bowl, combine the thyme, garlic powder, mustard, and balsamic vinegar. I then blended these ingredients in my nutri ninja but I think it was unnecessary. Just make sure your herbs aren't clumpy.
Drizzle your baking dish with olive oil and place your rack in the dish, fat side up. Salt the top of the rack and then spread the mixture generously across getting the sides too.
Roast your lamb for 20 minutes (18 for rare which is how I like it, 20 for medium rare, 22 for medium). Then pull the lamb from the oven and cover it with aluminum foil and ALLOW IT TO REST FOR 15 MINUTES (you KNOW how passionately I feel about resting your meats).
Cut into double chops and serve!