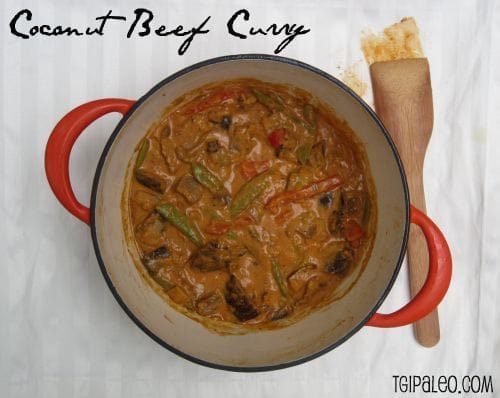 Ingredients
2 T coconut oil
2 leeks, sliced
1 red bell pepper, sliced
1/2 t salt
1/2 t pepper
2 garlic cloves, minced
1/2 t fresh grated ginger
4 T red curry paste
1 medium eggplant, cubed
1 c sugar snap peas
2 cans full-fat coconut milk
1 pound stew or stir-fry beef
Directions
Heat a large skillet over medium heat and add the coconut oil.
Add the beef and brown on all sides, then remove and set aside.
Add the leeks, red peppers, salt and pepper to the beef drippings and stir to toss.
Cover and cook until the vegetables have slightly softened, about 5 minutes.
Add in the garlic, ginger and curry paste and stir to coat. Cook for 5 minutes, stirring occasionally.
Add in the peas, eggplant, and coconut milk. Bring the mixture to a boil, then reduce the heat to low, cover and cook for 5 minutes.
Add the beef and allow the curry to simmer for 30 minutes or more.
Serve alone or over cauliflower rice.