Coconut Chicken with Sweet Ginger Sauce
This was one of those make-it-up-as-I-go recipes. Sometimes they turn out great, sometimes… not so much.
This one was definitely a great one!
The chicken came out super crispy and savory. The slightly spicy and sweet sauce really balances everything perfectly.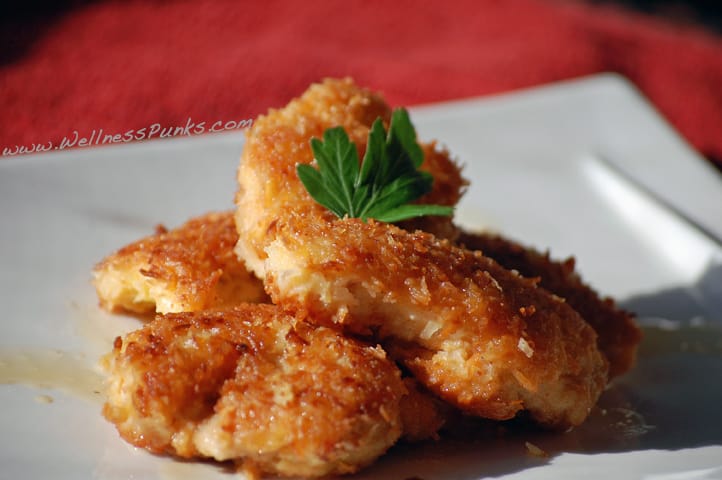 Ingredients
1.5 - 2 lbs chicken thighs
1 cup coconut flakes
1/2 cup coconut flour
1 tsp smoked paprika
2 tsp sea salt, divided
1/2 tsp white pepper
1 tsp parsley flakes
2 eggs
3 tbsp coconut oil (or more for frying)
(for sauce)
1/2 cup coconut milk
1 tbsp honey
1-2 tsp ginger (to taste)
1/2 tsp sea salt
2 tbsp gluten-free tamari (or coconut aminos)
1 tsp lemon juice
Directions
Cut chicken into 2 - 3" chunks.
Warm coconut oil in large skillet over medium heat.
In a large bowl, add coconut flour, 1/2 tsp sea salt, pepper, parsley and paprika. Mix well to combine flavors and add chicken to bowl. Toss to completely coat chicken in flour.
In a small bowl, crack and whisk 2 eggs.
In a medium bowl add coconut flakes and 1/2 tsp salt.
Transfer one piece of chicken at a time to eggs and then to coconut flakes coating each piece evenly.
For Sauce... In a small sauce pan, over medium heat, combine sauce ingredients. Mix well until sauce is hot but not boiling. For thicker sauce add 1 teaspoon arrowroot or potato starch.
Pour sauce over chicken or use for dipping.