In a medium bowl layer coconut flakes, walnuts, almonds, raisins and chocolate chips. Sprinkle with cinnamon. Pour cold almond or coconut milk over the muesli and eat with a spoon.
Note 1: If using protein powder, combine it with almond milk in a shaker or blender before pouring it over muesli.
Note 2: Store your coconut flakes in the freezer for crunchier \"cereal\".
Additional Muesli Ideas: Using coconut flakes as a base for your \"cereal\", you could also try some other toppings and mix-ins such as: sliced banana, dried cherries, dried cranberries, wild blueberries, macadamia nuts, grated apple, blackberries, cocoa nibs, gogi berries, pecans, chopped pear, or diced peaches.
[ingredients]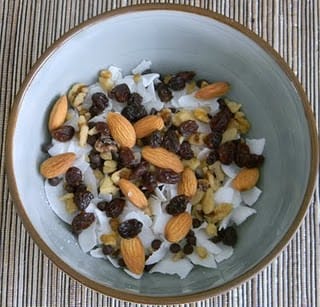 Ingredients
Coconut
Walnuts
Unsweetened chocolate chunks/chips
Organic raisins
Cinnamon
Coconut/Almond milk
Egg White or Whey Protein Powder (optional)