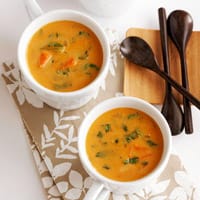 Ingredients
2 medium carrots chopped
1 medium green sweet pepper, seeded and chopped
1 medium onion chopped
1 T coconut or preferred oil
1 15oz canned 100% pumpkin puree
1 14oz can unsweetened coconut milk
1 14oz can (just under 2 cups) reduced sodium chicken broth (organic is best)
1 medium fresh jalapeno chile pepper, seeded and finely chopped
2 T honey
3/4 teaspoon sea salt 1/2 teaspoon ground ginger 2 T freshly snipped cilantro or parsley
Directions
In a large saucepan, cook carrots, sweet pepper and onion in hot oil over medium heat (about 5 minutes) or until vegetables are tender. In a separate large bowl, combine pumpkin, coconut milk and broth. Stir in honey (if using), jalapeno pepper, salt and ginger. Stir pumpkin mixture into cooked carrot mixture.
Bring to a boil, reduce heat. Simmer uncovered about 10 minutes or until heated throughout – stir frequently. Before serving stir in snipped parsely or cilantro. Makes 6 – 1 cup servings.
Enjoy!
*A note about canned pumpkin! I'm sure you all know you don't want the pumpkin pie mix, but sometimes the labels look very similar, and are often right next to eachother in your grocer's asile. Just make sure you double check your labels so you don't end up with pumpkin pie soup!