Beat the ingredients for the cookie dough together, then set aside.
Do the same for the fudge.
In an 8×8 dish lined with parchment paper, press half of the fudge mixture into the bottom. Press all of the cookie dough on top (it doesn't have to be pretty, don't worry). Then press on the last half of the fudge.
Refrigerate for 2-3 hours, or until firm. Or you can just start spooning it out right then, I won't judge.
[ingredients]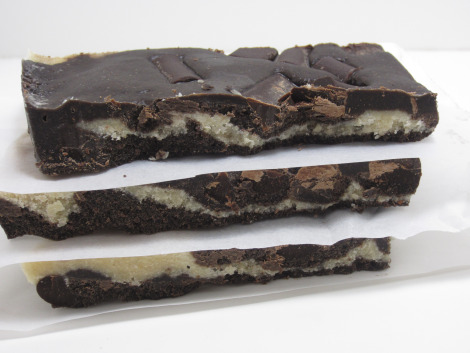 Ingredients
Cookie Dough: 1 c Almond Meal Flour
1/4 t Salt, 1/2 t Vanilla
1.5 T Coconut Butter, 1.5 T Coconut Oil
Fudge:
1/2 c Raw Almond or Cashew Butter
1/2 c Raw Coconut Butter (Not coconut oil!!)
1/4 c Dark Cocoa Powder
1 t Vanilla
1/2 t Salt
2 T Raw Honey