Cranberry Cashew Cheeze Torte
Cranberry Relish
1 cup fresh cranberries
3 medjool dates, pitted
1 teaspoon lemon juice
1 Tablespoon honey or maple syrup
Blend ingredients into a sauce, add sweetener to taste. This sauce should be made 1 day ahead of time, it will firm up into a rich sauce if left to sit in the fridge overnight.
Creamy Cashew or Macadamia "Cheeze"
1 cup cashews or macadamia nuts (soaked for a few hours if you can)
1 Tablespoon olive oil
1/4 cup lemon juice
1/4 cup water **
Pinch sea salt
optional: sweeten with 1 TBS of honey or maple syrup.
Blend ingredients in food processor until creamy. Spoon into a mini spring form pan and chill until firm. Top with cranberry sauce, chill, remove from pan, and serve!
**note: if you have time to soak your nuts first, you will not need to add as much water. Also if you are serving right away, you should add water as needed, to keep it firm. If you have time to let it sit overnight, it will firm up perfectly.
[ingredients]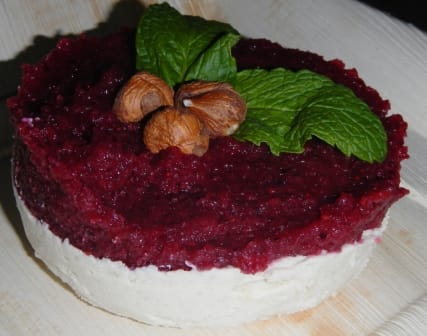 Ingredients
1 cup fresh cranberries
3 medjool dates, pitted
1 tsp lemon juice
1 tbsp honey or maple syrup
1 cup cashews or macadamia nuts (soaked for a few hours if you can)
1 Tablespoon olive oil
1/4 cup lemon juice
1/4 cup water **
Pinch sea salt
optional: sweeten with 1 TBS of honey or maple syrup