Creamy Pumpkin and Carrot Soup with Vanilla-Spiced Roasted Cashews
Original recipe here (complete with Vanilla-Spiced Roasted Cashew recipe).
I invented this recipe as an easy take-to-work lunch. I simply put this in the slow cooker when I go to bed and then take it to work in a food thermos! Too easy.
The soup is delicious topped with my Vanilla Spiced Roasted Cashews–a great substitute for croutons!
It also helped to heal some emotional wounds from prior pumpkin soup making–as you will read in the blog post. Oh. The shame.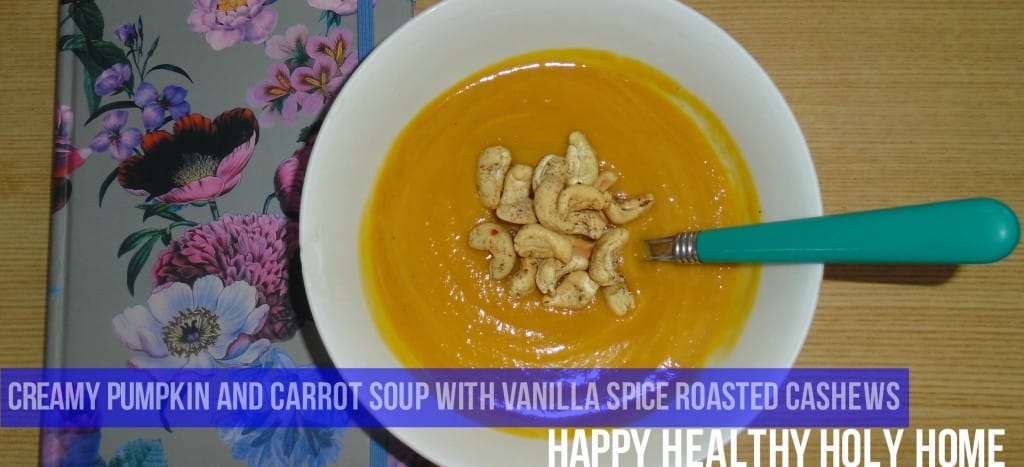 Ingredients
1/2 small pumpkin, cubed (approx. 2 cups)
2 small/medium carrots
sea salt
1/2 tsp cumin
1/8 tsp nutmeg
50ml coconut cream (or cream)
Directions
Put the pumpkin and carrot in a small slow cooker and fill with water until just covering, then add salt to taste.
Cook for 4-6 hours on low setting (I usually just put mine on when I go to bed and turn it off when I wake up!).
Blend the ingredients in a food processor or blender on low for 30 seconds and then turn to medium/high to eliminate the chunks.
Add spices and coconut milk and blend.
Serve with Vanilla Spice Roasted Cashews (see above link for recipe) and with a swirl of coconut cream (if you want to get fancy!).