Crockpot Italian Shredded Pork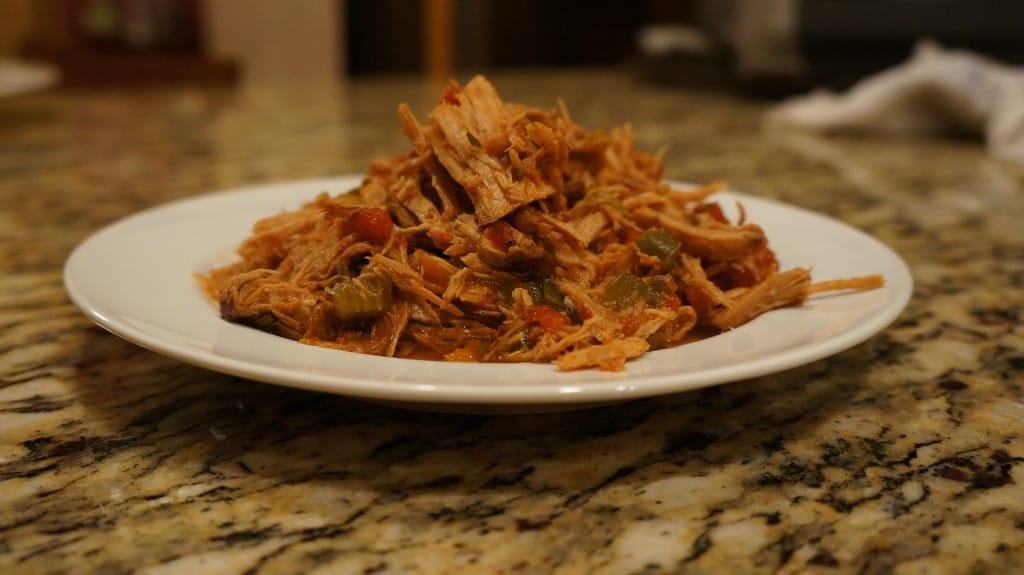 Ingredients
2 lbs pork roast
1 green bell pepper, diced
1 red bell pepper, diced
1 stalk celery, diced
3/4 tsp fennel seeds
3 garlic cloves, minced
28 oz canned diced tomatoes
1/2 cup dry red wine
1 sprig fresh rosemary, minced, 1 sprig fresh thyme
salt/pepper, coconut oil/olive oil
Directions
Heat olive oil or coconut oil in a large pan over medium high heat. Salt and pepper the pork roast. Brown pork roast on all sides and place in crockpot.
Heat more oil if necessary in same pan and reduce the heat to medium. Add diced bell peppers, celery and fennel seeds and cook until softened, about 5 minutes. Add minced garlic cloves and fresh rosemary and cook another minute.
Add in red wine and scrape bottom of the pan to get all the yummy browned bits. Let reduce by half for about 3-5 minutes more.
Pour veggies and wine over pork in crockpot and add diced tomatoes and thyme sprigs. Season with salt and pepper. Set your crockpot to low and cook for 8 hours or until pork is cooked through.
Remove pork from the crockpot and shred with two forks. Skim any fat off of the sauce (if there is a lot) and remove the thyme stems. Return the pork back to the pot, stirring to coat. Eat up!