Spread sliced and separated onion rings on bottom of crockpot.
Rub lamb shanks with GF Worcestershire sauce, then sprinkle all over with salt and pepper.
Heat a heavy skillet over medium-high heat. Add olive oil and brown the lamb shanks. Place browned lamb shanks, along with any browned bits from the skillet, in the slow cooker crock on top of the onions. Top with whole garlic cloves and mushrooms.
In a bowl, combine red wine, beef broth, tomatoes, oregano, basil, thyme, allspice, and bay leaf. Pour mixture over the vegetables and lamb shanks.
Cook on low for 6 to 8 hours or until tender. Taste and adjust seasoning, if necessary.
Serve with pan juices and vegetables.
You may wish to make this a day ahead of time and refrigerate. This way you can easily scrape off the excess fat from the gravy before reheating and serving.
*Look for the Easy Homemade Worcestershire Sauce Recipe on fastpaleo
[ingredients]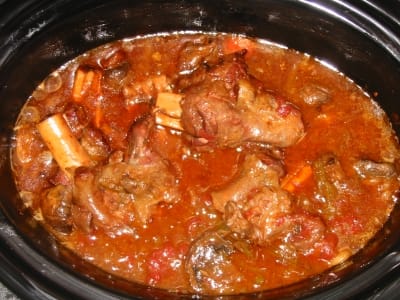 Ingredients
1 sweet onions, sliced and separated into rings
4 lamb shanks
1 teaspoon Easy Homemade Worcestershire Sauce (or storebought GF Worcestershire Sauce)
1 teaspoon kosher salt
Freshly ground black pepper, 4 sprigs fresh thyme
1 teaspoon olive oil, 1 teaspoon dried basil,
10 whole, peeled garlic cloves, large ones cut in half
8 ounces mushrooms, brushed clean, large ones cut in half
1/2 cup red wine, 1/2 cup strong beef broth
1 (14 ounces) can diced tomatoes (about 1-3/4 cups),1 teaspoon dried oregano