Preheat your oven to 250 degrees. On a large baking sheet (I covered mine in parchment paper for easy clean-up), spread out the kale leaves. Drizzle with coconut aminos, olive oil, and a some fresh ground pepper. Toss the kale to evenly disperse the flavoring and put in the oven. Set your oven timer to 15 min.
When the timer goes off, stir the kale. Keep checking it on 15min intervals, gently stirring each time, until the leaves are very crisp. While they are still hot, season with sea salt if desired.
Store in an air-tight container along with a paper towel to keep them crunchy.
Kale chips can be enjoyed as a snack, or used as a garnish for other dishes.
[ingredients]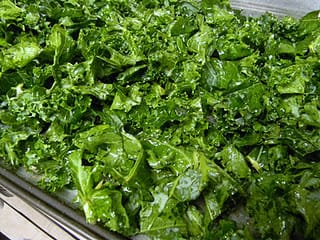 Ingredients
1 large bunch Kale (~10oz, washed and dried leaves with the stems removed))
1-2oz of coconut aminos or tamari
1-2 tbsp extra virgin olive oil
Sea salt and pepper to taste