Dairy-free Pistachio Pudding
1. Soak 1 cup shelled pistachios in filtered water for ~3 hours to soften them; drain and rinse.
2. Add to high speed blender like a Vita-Mix or similar (food processor might work) with sweetener of choice, plus 1 TBSP water
3. Blend on high until smooth paste forms, about 5-10+ minutes if necessary.
Note: It won't be completely smooth, there will be small bits, but that's ok, it tastes good! I continued to blend after this pic was taken until it was even smoother.
4. Let paste and avocado chill in fridge overnight or at least 4-5 hours.
5. Cut avocados in half, scoop out all of the flesh and add to the paste with 1/4 cup water; blend on high speed until it is well incorporated and smooth. Stop blending periodically and use spatula to scrape down sides, continue blending until smooth.
6. Chill pudding in refrigerator for 4-5 hours before eating.
7. Top with additional chopped pistachios or chocolate chips
Note: Texture will be a bit thick and fluffy, like a mousse, but rich and creamy with subtle pistachio crunchies. Lemon/lime juice is undetectable; added to help prevent oxidation, which will happen anyway.
[ingredients]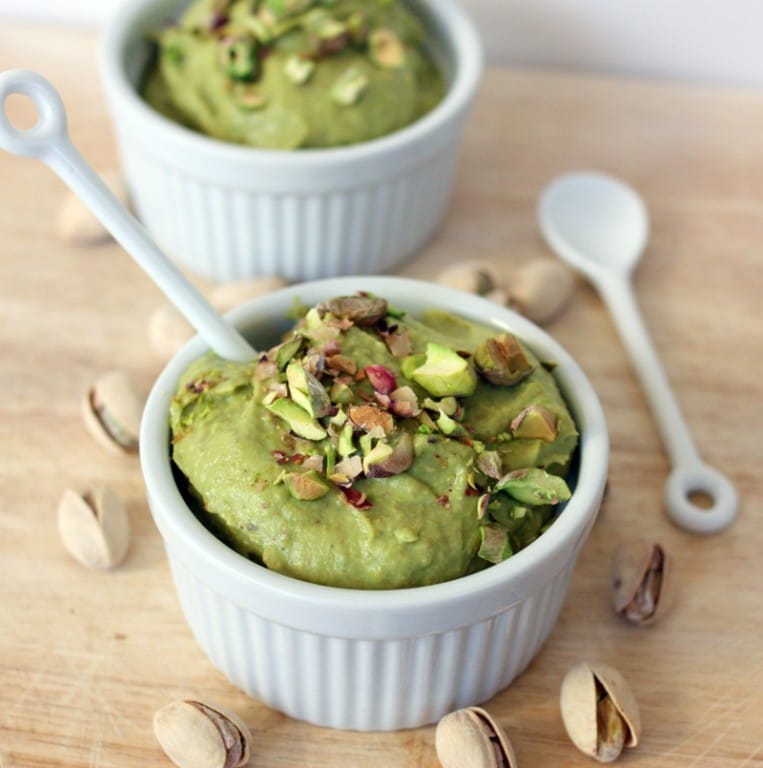 Ingredients
3 ripe avocados
1/3 cup agave, honey or sweetener of choice
1 cup shelled pistachio nuts
1/2 teaspoon Himalayan pink or sea salt
1/2 teaspoon lemon or lime juice
1/4 cup water + 1 TBSP + more water for soaking nuts
Extra chopped pistachios for topping