Dark Chocolate Almond Protein Bars
Yields 8 protein chewy bars
Serving size: 1 bar
Protein: 14 grams
Carbohydrates: 13 grams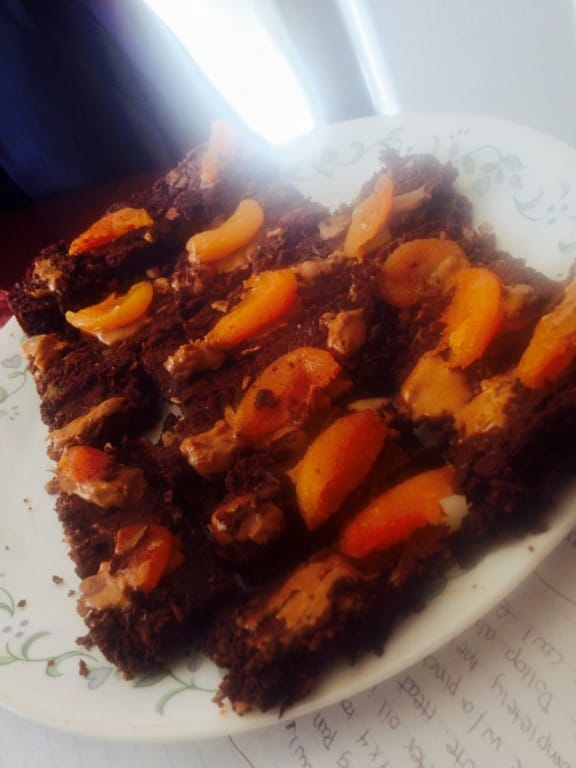 Ingredients
1/4 cup almond meal (Trader Joe's brand)
1/2 cup sliced almonds
2 Tbs almond butter
1/4 cup raw pepitas
2 scoops whey protein concentrate(the grass fed cow kind) OR any other protein powder of your choice
1/2 cup unsweetened coconut flakes
a big WHOPPIN spoonful of coconut oil
2 large eggs
1 whole bar Ghirardelli's 100% baking cocoa
1/8 tsp ginger
1 tsp vanilla extract
pinch of sea salt
pinch of stevia
8 dried apricots (halved for garnish)
Directions
Preheat oven to 350 degrees Fahrenheit
Mix together all ingredients in a bowl except for the apricots and stevia.
Pat evenly into a small baking pan (about 6 inch by 12 inch) and place the 16 halved apricot pieces in 4x4 rows evenly spaced.
Place in the oven for about 13 minutes until you see the oil bubbling on top.
Take the pan out and let sit for a minute. Heat about 3 Tbs coconut oil up in the microwave with a pinch of sea salt and the pinch of stevia for sweetness.
After it is completely melted, drizzle the oil all over the pan and let it sink in.
If you want you can make little dollops of almond butter on top of the bars for a little extra yumminess.
Let this cool for 10 minutes and then cut into 8 pieces, each piece containing 2 halves of apricot.