Dark Chocolate Coconut Ice Cream
Put all ingredients together in the blender and \"liquify\".
If you let it sit for about 30min it will be more like pudding or custard.
If you wait a couple of hours and stir it once in a while, you will get the ice cream consistency as I have in the picture. I was surprised at how much it tasted like Thai coconut ice cream and Ghirardelli ice cream mixed together.
possible tweaks: add a little sea salt, use different nuts, or throw in pumpkin seeds for a little crunch.
note: I garnished it sundae-style with some coconut flakes, a few almonds and dried cranberries. I used Trader Joe\'s coconut milk and 1/2 of their 72% cacao/dark chocolate bar.
[ingredients]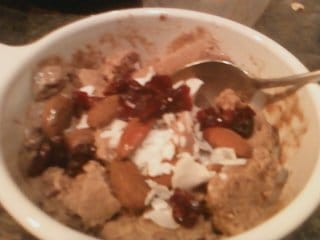 Ingredients
1 14oz can coconut milk
1/8 cup almonds
1/8 cup dried cranberries
2 tspns Agave nectar
.82oz Dark Chocolate (1/2 bar)
1/2 tspn cinnamon